An easy mocktail mar'tea'ni for a pleasant monsoon evening
An easy mocktail mar'tea'ni for a pleasant monsoon evening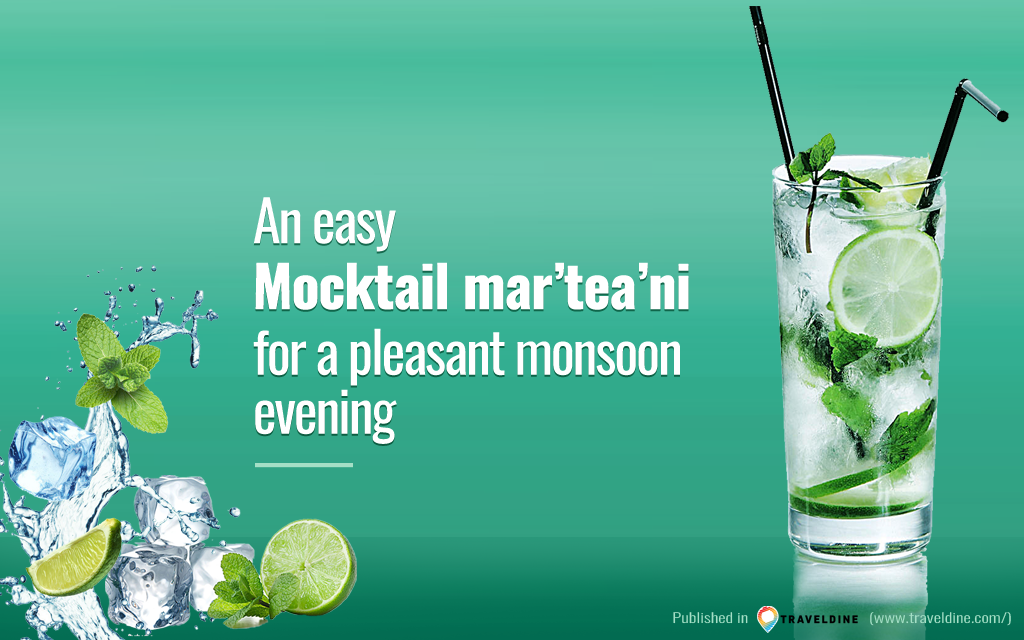 Can you actually combine the techniques of a mocktail and the flavours of tea?
If wellness choices have made you that 'mocktail person' at a party, here's a way to spice things up for yourself! Who said you need to have a few cocktails to have fun, this mocktail mar'tea'ni is here to bust that myth.
Made with the legendary Golden Tips Tea, this mocktail curated by Madhav Sarda is the best thing you'll whip up. An expert Tea Taster and Managing Director at Golden Tips Tea, he's curated the perfect fun yet comforting drink for you.
Established in 1933, Golden Tips Tea offers the world's finest collection of teas worldwide. With over 10 stores and a chain of fabulous Tea Boutiques in Darjeeling & Sikkim, these teas are freshly packed and shipped almost immediately to be devoured in all their glory. According to industry sources, the flavoured tea market growth is estimated at 45% per year in India. But of course, nothing beats the classic Earl Grey. Or in this case, the combination with pomegranate for a mocktail take on the classic martini.
For Madhav Sarda, who was born and brought up in Darjeeling, tea is second nature. With over 4 decades of tea tasting experience majorly with Darjeeling & Assam orthodox teas, he's particular about personally tasting and selecting each tea, assisted by his colleagues. It's only the best of the best which eventually bears the Golden Tips stamp, to ensure that customers get the perfect cup every time.
His passion to make Darjeeling Teas available to connoisseurs in India and worldwide – not only pure and fresh, but also at reasonable prices, and in attractive packaging directly from the source – continues unabated.
This particular mar'tea'ni is a product of the same efforts, combining the best flavours of tea and the techniques of a classic cocktail. All to give you the perfect monsoon mocktail.
Ingredients
2 tbsp fresh pomegranate seeds
3-4 ginger juliennes
120-130 ml of Golden Tips Earl Grey Green Tea (An orthodox Green tea from Darjeeling and mildly scented with the natural oil of Bergamot)
Crushed ice cubes
60 ml pomegranate juice
10-15 ml fresh lemon juice
1 twig tulsi, for garnish
Earl Grey Green Tea - Tin Can
An Unfermented orthodox Green tea from Darjeeling mildly scented with the natural oil of bergamot. Bergamot fruit is a pear-shaped sour orange originally found in south Italy. This fine & mellow green tea is characteristic of a refreshing & soothing taste, a fruity and fragrant citrus flavor & light Colour in the cup.
Method
Brew the Golden Tips Earl Grey Green tea and let it cool down for 30 mins.
In a cocktail shaker, mix the lemon juice, ginger and pomegranate seeds.
Add crushed ice cubes, Golden Tips Earl Grey Green Tea and pomegranate juice.
Shake vigorously and strain the concoction into a martini glass.
Tip: Garnish the mocktail with tulsi leaves for that extra punch.