Ex Jammu and Kashmir CM Farooq Abdullah visits Golden Tips Tea boutique located in Chowrasta, Darjeeling.
Ex Jammu and Kashmir CM Farooq Abdullah visits Golden Tips Tea boutique located in Chowrasta, Darjeeling.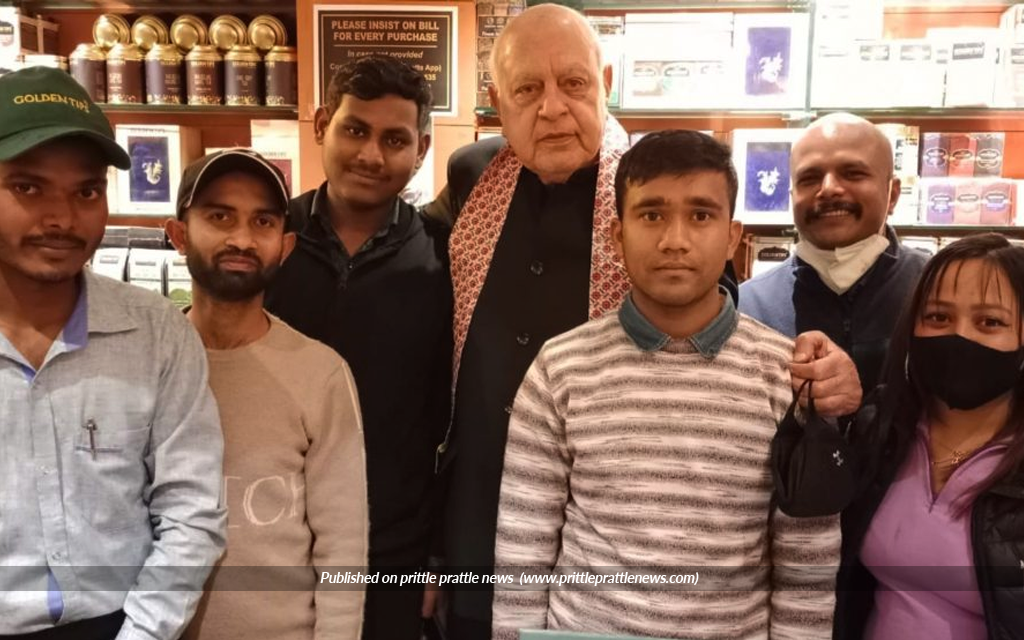 9th May, 2022 – Ex Jammu and Kashmir CM Farooq Abdullah recently visited Golden Tips Tea boutique located in Chowrasta, Darjeeling. He savoured premium quality Moonlight Spring Teas in the premises. Mr Abdullah appreciated the tea boutique, the picturesque ambience of Cafe Teattoria, and bought some premium teas too. He interacted with the staff earnestly, and showed keen interest in the eclectic variety of Single Origin, Blends and Tea Accessories on display in the store.
Golden Tips comes with a heritage of 80+ years and 4 generations. The company follows the (Direct from Plantation + Auction model) and their expertise lies in sourcing, packaging and marketing of premium quality single origin teas, and tea blends. Apart from the domestic market, they export teas to 90+ countries with Russia, Japan, Mongolia, Nepal, Bhutan and now China being their main international markets.
When the company started a few decades back, the almost complete absence of a premium homegrown brand that could package and present the finest Darjeeling Teas to customers spurred us to start Golden Tips. The endeavour has been to cater to domestic as well as foreign customers, especially those visiting India, through their 14+ tea boutiques, omni-channel presence across India (Bombay Stores/ Foodhall/ Nilgiris/ Central Cottage Industries Emporia, Dorabjee, Lulu, Pothy's etc.) and through our website and marketplaces like Amazon and Flipkart.
Golden Tips has a vast and eclectic range of the finest Darjeeling, Assam and other Indian teas sourced from the best plantations across the country. These teas are packaged in varied styles and packs. Like Economy packs, Handcrafted Gift packs consisting of hand-carved wooden boxes, fancy Brocade and Velvet cloth bags, Jute boxes, etc. They also manufacture Commercial packs in Paper Cartons and Tin Cans, which encloses the premium teas.
The first flush Darjeeling tea of the new season has set a new record price of Rs 23,000 per kg. Golden Tips obtained and purchased these new season spring teas from Goodricke Group- The Badamtam Tea Estate. The company paid Rs 23,000 per kg for Organic White tea and Rs 21,000 per kg for Moonlight tea, the highest prices of the season so far. Golden Tips purchased 10 kilograms of Organic White tea and 5 kilograms of Moonlight tea. These teas were picked just a few days ago from the estate at an elevation of around 4,500 feet above sea level, giving them a distinct character and quality.
Madhav Sarda, Managing Director Golden Tips Tea, and Well Known Tea Taster said, "We are glad to once again procure the most exotic spring teas from the Goodricke Group's Badamtam tea estate. Surging demand for these teas in the overseas market and increased palate for premium spring flush teas in the domestic scenario prompted us to procure the teas at higher than normal prices. Our relationship with Goodricke Group goes beyond the procurement of teas, the common vision of providing a world-class tea experience to tea lovers all over the world, has made us natural partners."
The tea retailer plans to expand its footprint through the e-commerce route by entering into strategic partnerships in the country and widen its reach in export markets through distributor tie-ups overseas.