Madhav Sarda: The magic of Darjeeling's Golden Tips
Madhav Sarda: The magic of Darjeeling's Golden Tips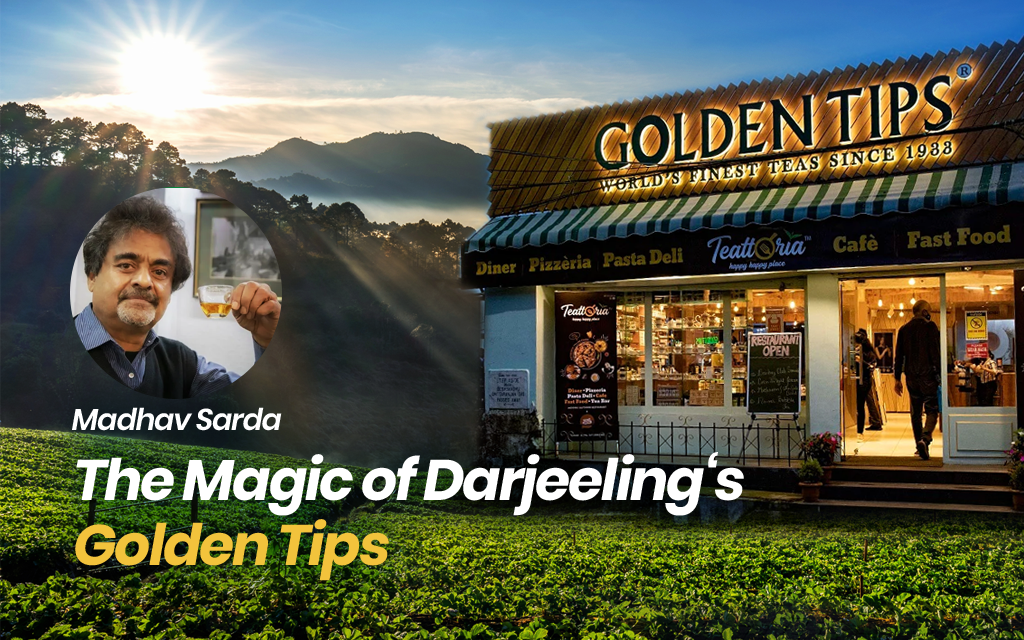 Tea, the love for this elixir made the British do some industrial reconnaissance and bring the seeds of Camellia Sinensis to the foothills of the mighty Himalayas, to Darjeeling. Darjeeling is blessed with a unique terroir with an altitude ranging between 1200 – 6000 ft above sea level. The steep slopes, ample humidity, rainfall, shade, moisture, and acidic soils infuse "magic" into the teas of this region. There is a certain air about the region and not surprisingly, Darjeeling teas are one of the most loved beverages around the globe with absolute uniqueness in flavor and aroma.
Capturing this very essence of Darjeeling is a tea brand that comes with a heritage of 80+ years and 4 generations of tea entrepreneurs – Golden Tips. Reminiscing about the history, Madhav Sarda, Managing Director, Golden Tips says, "When we started a few decades ago way back in 1933, the almost complete absence of a premium homegrown brand that could package and present the finest Darjeeling Teas to customers spurred us to start Golden Tips."
Today, Golden Tips follows the "Direct from Plantation + Auction model) and the brand's expertise lies in sourcing, packaging and marketing of premium quality single origin teas, and tea blends. Apart from the domestic market, Golden Tips sells online to 90+ countries with Russia, Japan, Mongolia, Nepal, Bhutan and now China, the main international markets for B2B sales of the Golden Tips branded range.
Sarda adds, "Our endeavor has been to cater to domestic as well as foreign customers, especially those visiting India, through our omnichannel presence across India and of course through our website and marketplaces like Amazon. Our specialized and unique Tea Boutiques spread across Darjeeling, Sikkim, etc are also a must-visit for tourists and play a major role in popularising the finest teas and making them available to connoisseurs."
The nuances of fine teas
As in every business, the initial years were the most challenging. General ignorance of the trade, lack of awareness of the nuances of fine teas among the general public, and its consequences on the possible customer base were just some of the teething issues, informs Madhav. "Also, most retail chains were either reluctant to keep our products, or if agreeable, they were ready to keep just a few variants in small quantities. This made little business sense as the impact would be minimal in terms of visibility and awareness," he adds.
Golden Tips has a vast and eclectic range of the finest Darjeeling, Sikkim, Assam, Nilgiris, and other Indian teas sourced from the best plantations across the country. These teas are packaged in varied styles and packs. Like Economy packs, Handcrafted Gift packs consisting of hand-carved wooden boxes, fancy Brocade and Velvet cloth bags, Jute boxes, etc. The brand also manufactures commercial packs in paper cartons and tin cans, as also gift packaging and assortments.
Madhav, who is also an experienced tea taster, shares, "Many of the offerings that we have are Organic like our 2nd Flush Ruby Regalia Black Tea from the famous Arya Tea Estate, Organic Moonlight White Tea etc., amongst a host of other exotic teas. However, presently, we are not using the Certified Organic tag, though Golden Tips is certified by IMO India (IMO India is an independent certification body for Organic Agriculture that has been carrying out audits and certification since 1995) and is also JAS (Japanese Agriculture Standard) Certified which ensures we comply with JAS Standards established by the Ministry of Agriculture, Forestry and Fisheries, Japan. We plan to launch our initial Certified Organic variants this year."
Sustainable sourcing
Is a magical land of ingredients. All of these products have strong wellness connotations that have been accepted by people globally. India grows about 25 % of the world's tea in addition to exotic herbs, spices, and superfoods, like Turmeric, Moringa, Ashwagandha, Tulsi, and Giloy.
Madhav points out, "Our teas are freshly sourced from the picturesque tea gardens of Darjeeling, Assam, Kangra, Sikkim, and Nilgiris. So, our ingredients (Teas and Spices) are all sourced from within the country, with some being sourced sustainably too."
Darjeeling Tea received the GI tag in 2004. This tag ensures that tea grown just in the district of Darjeeling can be sold as Darjeeling. Besides, none other than those registered as authorized users by the Tea Board are allowed to use the popular product name. Madhav observes, "The acquisition of this Tag has had a positive fall-out in the region as it fetches a slightly premium price for the plantation owners, and hence a ripple effect percolates down to the tea workers even though a lot more needs to be done by the Government. Darjeeling Tea has been able to maintain an even curve when the tea sector at large has gone through a low phase owing to strikes and climate change. It has also brought about the consolidation of ownership and new investments in the tea industry of the region."
Elucidating on the future roadmap for Golden Tips, Madhav says, "We have recently opened our flagship Tea Café and restaurant "Teattoria" in Darjeeling. It offers Italian/ Continental and Oriental cuisine along with our Specialty Teas. We now plan to expand our footprint through our offline/ physical retail operations across Metro and Tier 2 cities in India by opening niche experiential tea boutiques and stores. We are exploring this route and hopefully shall finalize some tie-ups after the current wave of the pandemic subsides. We also intend to give a thrust to our online operations to capture a larger market in the near future."