5 Amazing Health Benefits of Assam Teas
5 Amazing Health Benefits of Assam Teas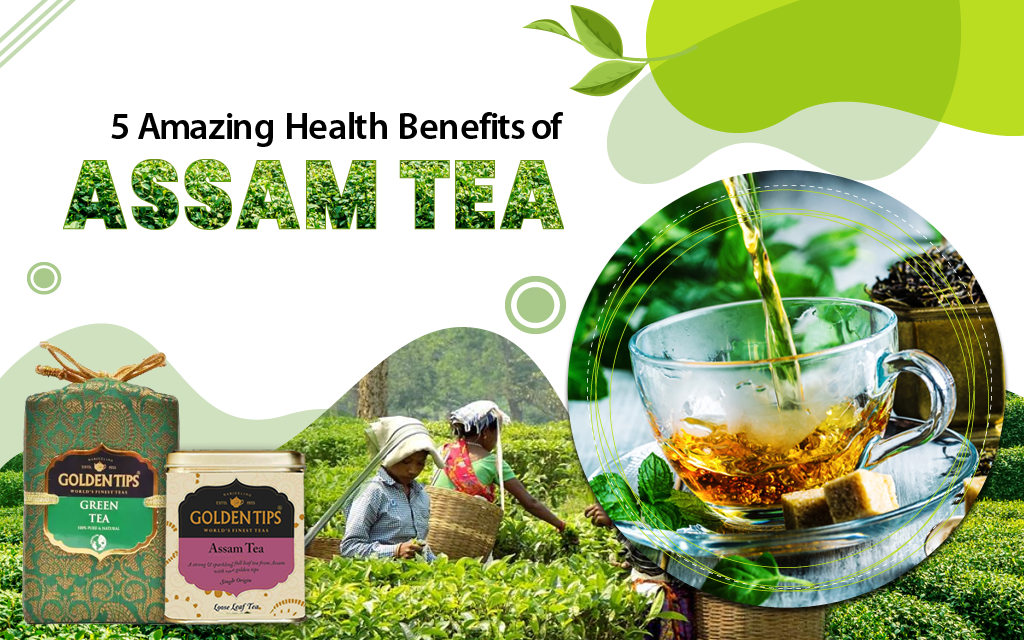 Assam is popular for its scenic views, fields full of greenery, and natural beauty. If you haven't been to India but are planning a trip, we recommend that you put Assam on the list of states to visit because you will regret not being in its enriching air.
Another reason Assam is incredibly popular is tea. The Assam state is home to its signature tea leaves, and they have always been popular for their tastefulness. However, this delicious flavor is not their only attractive feature.
Assam tea benefits include healing properties for a variety of body functions. Due to these Health Benefits, people have traditionally used this tea for both recreational and medicinal purposes.
5 Benefits of Full Leaf Assam Tea
Although Assam tea's health benefits extend beyond what we can reasonably mention here, we will share the five prominent ones that have become the source of its popularity.
1. Improves Skin Health
Assam tea is a natural source of vitamins A and E; both play an important role in improving skin health. Because this tea is not processed or artificial, the vitamins in it create lasting improvement and do not have the usual side effects artificial supplements tend to have.
2. Warms up the Body
Assam tea is a warm variant and helps concentrate heat within the body. This feature will be helpful to you if you live in colder climates and want to increase natural ways of staying warm. Given its general healthiness, you can have it multiple times a day to stay cozy and comfortable on a chilly day.
3. Heals Tooth Cavity
Dental problems are on the rise, but due to lack of proper medical coverage, many of us end up delaying dental checkups until it is too late. If you regularly develop a tooth cavity, drinking Assam tea can help.
Assam tea contains fluoride, an important element for strengthening teeth and boosting gum health. Drinking Assam tea in the morning or after a sugary meal will help you protect your teeth against cavities and prevent dental problems.
4. Improves Cognitive Function
Assam tea contains an optimal combination of caffeine and theanine, both of which improve cognitive function. Theanine is an amino acid that helps the mind relax, helping you increase focus to amplify your problem-solving abilities.
Caffeine enhances energy which will keep you awake, alert and help you ward off tiredness.
5. Boosts Immunity
One of the most important benefit of Assam black tea is its immunity-boosting ability. Assam tea is a rich source of epigallocatechin (ECG), a powerful antioxidant that fights cancer-causing and immunity-weakening free radicals.
Assam tea helps you remain healthy and reduce DNA damage, preventing premature aging in your body.
Choice of Assam Teas
Masala Chai India's Authentic Spiced Tea
An age-old classic, Masala Chai, literally meaning 'Spiced Tea....
View Price
Assam Tea - Tin Can
A celebratory Tea passionately made from selective leaves....
View Price
Ginger CTC Black Tea
A perfect blend of robust CTC Tea blended expertly with crushed....
View Price
Conclusion
Overall, Assam tea is a powerful source of various ingredients that help improve cognitive, dental, and general health. It also helps improve immunity, helping your body fight regular infections and harmful pollutants.
If you want to buy Assam tea, check out our range of Assam tea variants. Each variant has a rich flavor and will strengthen your body.
How to Make Assam Tea | All know About Assam Tea | Golden Tips Tea
Buy Premium Assam Tea Online - https://bit.ly/3dQkesC . About Assam Tea- A Fine selection of black tea from the lush estates of Assam. This sparkling offering contains rare golden-tipped leaves & has a pronounced malty flavor with a bright liquor & enduring aroma. Ideal for tea lovers whose weakness is strength and who also relish their cuppa with a dash of milk. How to Make Assam Tea Step 1- Take 2gm Assam Tea Step 2 - Pour 200ml Freshly boiled water Step 3 - Steep for 3-5 minutes Step 4- Now pour the tea into a cup & enjoy. . . . For More Updates and Offers, Follow us on social media :- Facebook- https://www.facebook.com/goldentipstea Instagram- https://www.instagram.com/goldentipsi... LinkedIn- https://www.linkedin.com/company/gold... Twitter- https://twitter.com/GoldenTipsTea. #AssamTea #HowToMakeAssamTea #GoldenTipTea