The Ultimate Guide to Gifting a Box of Tea
The Ultimate Guide to Gifting a Box of Tea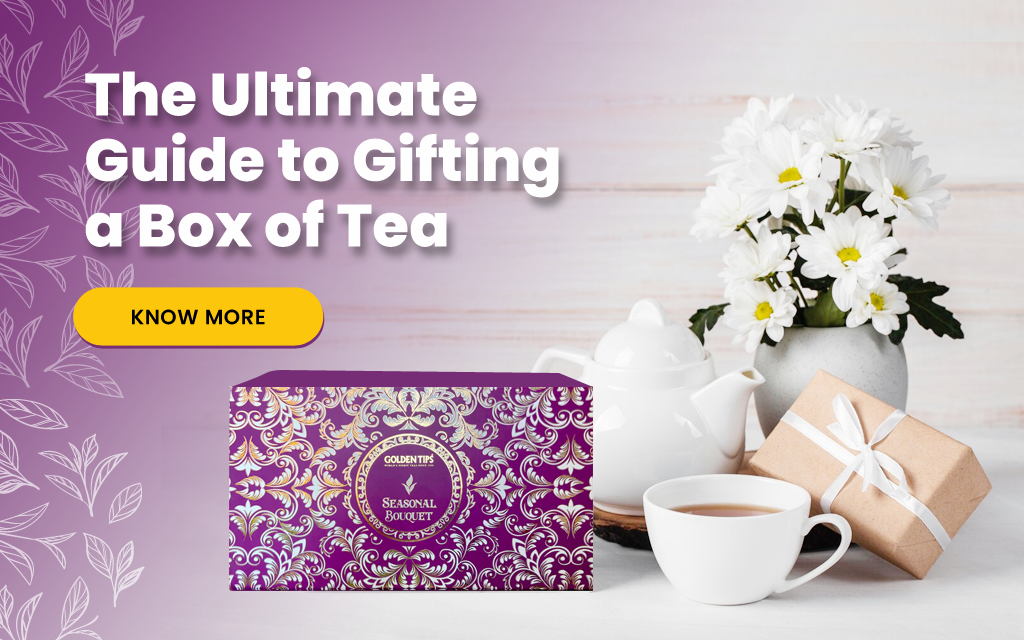 Are you looking for a splendid gift for your loved one? Do you people often bond and share great memories over tea? What better way to delight them than to get your loved one a gift box of teas?
Tea is an excellent gift choice for every occasion because of its experience. It encapsulates many sentiments, from warmth and relaxation to care and well-wishing. Additionally, the diversity of tea types and flavors means you can tailor your gift to suit the recipient's preferences. So, let's delve in to see how you can customize a box of teas and give your friend a memorable gift.
Best Tips for Selecting the Perfect Tea Assortment for Different Occasions and Recipients
Know the Occasion
Think about the event and who the gift is for. For example, consider gifting the Special Darjeeling Teas Collection with Silver Coated Brass Traditional Tea Strainer (Combo Pack) to someone who likes fruity and floral notes. This combo pack makes it a perfect gift for birthdays, bridal showers, Friendship Day, Diwali, Christmas & New Year. It features two exotic teas and an elegant silver-coated brass traditional tea strainer. It includes:
Special Summer Darjeeling Black Tea Second Flush has amber infusion, subtle fruity undertones, and a delightful muscatel flavor.
Savor the sophistication of premium full-leaf Special Spring First Flush Black Tea from Darjeeling. These Spring Darjeeling teas are celebrated for their exquisite golden liquor, gentle and pleasant aroma, and distinctive floral notes in every sip.
Saffron Cardamom Exotic Chai India's Authentic Spiced Tea - Tin Can
Prevent Cold and Nasal Congestion. Antioxidant-rich helps prevent cell damage. Boost Energy and Immunity.
Gift Combos of Masala Chai, Ginger Mastea, Saffron Cardamom Tea, Kadak Chai, Cinnamon CTC Tea & Ginger CTC Tea
A collection of 6 special Indian Spice Teas – Masala Chai, Ginger Mastea, Saffron Cardamom Tea, Kadak Chai, Cinnamon CTC Tea & Earl Grey Masala Tea. Packed in cylindrical golden tin cans with transparent lids and placed in a designer gold-foiled box, most ideal for gifting.
Special Darjeeling Teas Collection with Silver Coated Brass Traditional Tea Strainer (Combo Pack)
Premium full leaf second flush black tea from Darjeeling. Summer Darjeeling teas are characterized by their amber liquor, slight fruity taste along with a pleasant muscatel flavour..
Consider Packaging for an Elegant and Personalized Touch
Opt for beautifully packaged teas, whether in a decorative tin, a wooden box, or a gift set. The presentation can elevate the gift. For example, handmade paper boxes become cherished keepsakes, extending the joy of the gift well beyond its initial unveiling.
Likewise, Gift Boxes Combo Darjeeling Tea + Earl Grey Tea + Traditional Masala Chai is the best choice for gifting anyone you love on occasions like anniversaries, engagements, thanksgiving, Diwali, Mother's Day, Father's Day, and among others. It's an exquisite assortment of the highest quality teas, elegantly presented in charming canisters and packaged within a stylish designer box; this box is truly exotic and a premium present. It includes 100 grams of Darjeeling Tea along with two other exciting varieties of tea:
100 grams of Earl Grey Tea - premium whole-leaf tea, expertly infused with the essence of Bergamot for a fragrant and refreshing taste. Earl Grey, known for its faint English influence, gained immense popularity among tea lovers in Britain and across the globe.
150 grams of Traditional Masala Chai- This tea brings the magic of spice to the gift box. The traditional Masala Chai originates from India with a strong black tea flavor blended with various aromatic spices.
Everything about this gift box is extraordinary, from the packaging to the assortment and tea profile. You can make this gift even more exciting and special by shopping for a teapot- adding to the entire tea-drinking experience.
Enhance The Gift With Accessories
Elevate the tea gift by including tea-related accessories like infusers, teacups, or a teapot, making it thoughtful and practical. Buy a handcrafted clear glass teapot from Golden Tips Tea. It's food-safe and has a detachable micromesh infuser and lid, perfect for brewing loose-leaf teas. The charming square design adds to the fun and visual appeal. The infuser keeps the cup leaf-free, making it a great gift for fellow tea lovers. Plus, it helps you watch the steeping process for that extra delight.
Keep the Preferences of the Recipient in Mind
A well-rounded assortment with a mix of flavors, caffeine levels, and types of tea (loose leaf, herbal, flavored, etc.) is best to keep things exciting. For instance, if you know that the recipient loves a bit of everything, you can gift your friend Golden Tips Tea Darjeeling Hexad. It has six whole-leaf premium teas: First Flush, Second Flush, Autumn Flush, Green, White, and Oolong. The recipient can indulge in different flavors and enjoy the unique taste of Darjeeling's exotic tea.
So, whether your friend likes robust black tea, spice tea, or tea with distinctive floral notes, Golden Tips Tea has the perfect variety for you to choose from and delight your loved one with a unique and memorable gift. Explore our range and shop for the perfect gift box of teas today.