All About English Breakfast Tea
All About English Breakfast Tea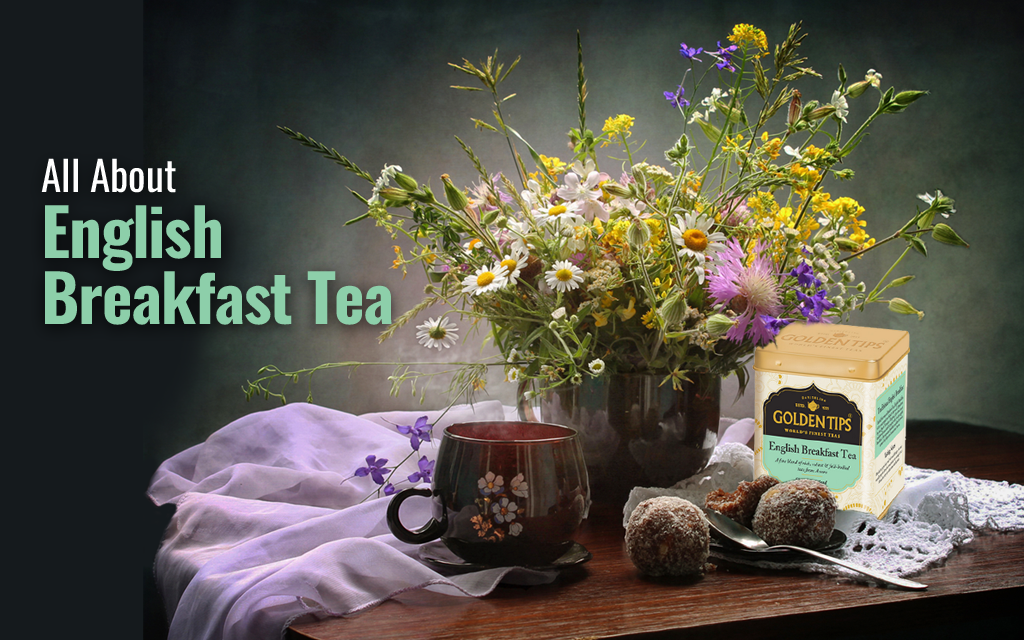 English breakfast tea, or simply breakfast tea, is arguably the most popular tea in the world, owing to its widespread consumption in British and Irish tea cultures. However, not many people, including tea lovers, know about its history, health benefits, or even preparation.
Let's discuss English breakfast tea, its history, health benefits, and preparation to help you learn about this popular tea.
All About English Breakfast Tea
Let's start with the history of English breakfast tea.
History
Breakfast tea dates back to the 18th century, and having a black tea blend with milk or sugar at breakfast has been a longstanding British and Irish tradition, hence its name. Notably, the prefix "English" actually originated in America when an English immigrant and tea merchant started selling "English Breakfast Tea" in New York.
This black tea blend originates from Assam, India, but varieties of the blend also come from Ceylon and Kenya. It was popularized in the UK partly by Queen Victoria during the late 1800s.
English Breakfast Tea - Tin Can
Initially known as Breakfast Tea, English breakfast is the most popular tea blend in the world....
View Price
English Breakfast Envelope - Tea Bags
Initially known as Breakfast Tea, English Breakfast, is the most popular tea blend in the....
View Price
Health Benefits
There are numerous health benefits of English breakfast tea, including:
Rich in Antioxidants and Minerals
Antioxidants help us remove harmful free radicals from our bodies, helping prevent numerous degenerative and chronic diseases such as cancer. English breakfast tea includes a wide range of healthy minerals and antioxidants, including folate, magnesium, potassium, phosphorous, L-theanine, flavonoids, polyphenols like catechins, theaflavins, and thearubigins, and many more.
Improves Focus
The L-theanine amino acids and caffeine in English breakfast tea help your body relax and sharpen your mind to give you better focus.
Reduces Risk of Heart Disease
Flavonoids, theaflavin, and other antioxidants in English breakfast tea help lower blood pressure and cholesterol and help reduce the risk of coronary heart disease.
Helps Diabetics
Thearubigins and theaflavin in English breakfast tea help reduce blood glucose levels and increase blood insulin.
Improves Gut Health
The polyphenols in English breakfast tea help improve gut bacteria, which improves many other body functions, including digestion, physical health, and mental health.
Reduces Risk of Cancer
Polyphenols also help cellular growth and production, reducing the risk of cancer and other degenerative diseases.
Preparation
English breakfast tea is fairly easy to prepare.
1. Bring filtered water close to the boiling point, around 210 degrees Fahrenheit or 97 degrees Celsius
2. Add high-quality loose leaf English Breakfast Tea in a teapot (according to the instructed serving size on the packaging)
3. Pour the hot water into the teapot and let the tea infuse for 3-5 minutes
4. Pour the infused tea into cup/s
5. Add milk and sugar to taste
6. Enjoy fresh English breakfast tea
NOTE:You can also use a tea strainer, infuser, or steeper if you want.
Final Thoughts
English breakfast tea is an excellent black tea blend to have for breakfast. However, we highly recommend opting for high-quality loose leaf tea, like those from Golden Tips Tea, because generic variety blends often result in a poor tea experience.
Want to learn more about English breakfast tea and other loose leaf tea blends? Want to buy the most authentic and superior breakfast teas, Darjeeling teas, or loose leaf Indian teas? Please visit our website today.