Most Popular Flavored Teas in the World
Most Popular Flavored Teas in the World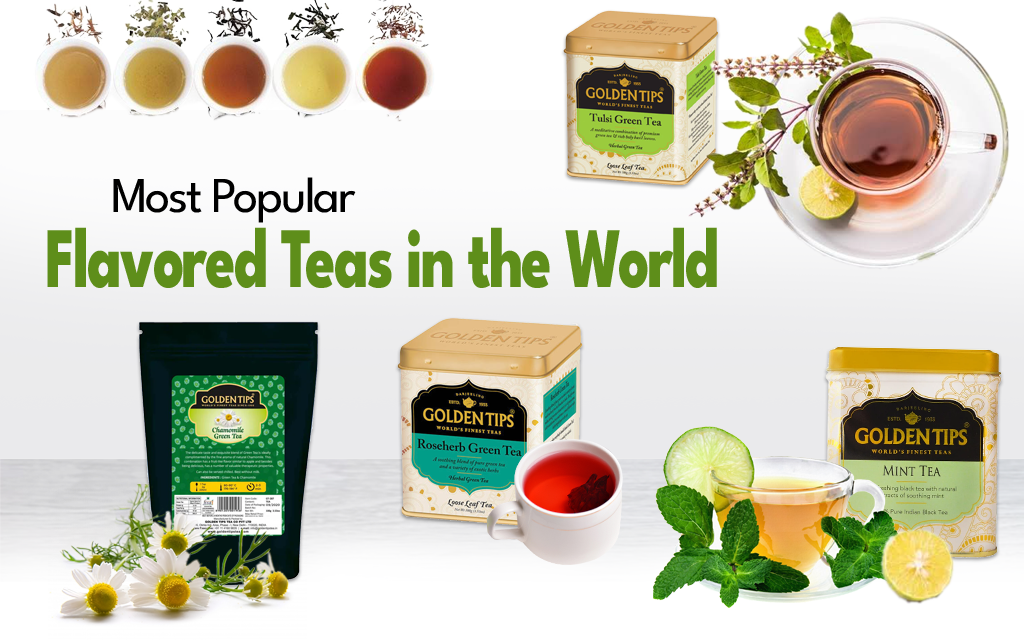 Tea drinkers around the world love teas for their soothing aromas, refreshing flavors, and immense health benefits. They help relieve stress, sharpen the mind, increase energy levels, calm the body, improve sleep, boost immunity, aid digestion, prevent diseases, and the list goes on.
The choice and preference of tea are subjective, but most tea drinkers love experiencing different types of loose leaf teas. This is why we have come up with our list of the most popular flavored teas in the world, so you can try something new or different and add it to your loose leaf tea collection.
Most Popular Flavored Teas in the World
Flavored teas can add a preferred aroma to your choice of tea. You can add or infuse these herbs, flowers, or flavors to any tea yourself, or opt for high-quality loose leaf flavored tea varieties from a trusted retailer like Golden Tips Tea.
There are plenty of tea drinkers who prefer such flavored teas, and here are the most popular ones (in no particular order) they commonly drink.
Mint Tea
Perhaps the most popular choice of flavored tea in the world is mint tea. Nearly everyone is familiar with the strong aroma and flavor of mint leaves since they are widely used in all types of cuisines. Refreshing mint tea is an excellent coolant for the human body, even when you drink it hot.
Here is a list of some of the best, most authentic mint green and black teas for you to try out.
Tulsi Tea
Tulsi or holy basil is an aromatic perennial plant native to India. It is grown in nearly all Indian homes and not just consumed but also worshipped to spread positivity. It has plenty of health benefits and has been a part of traditional and herbal medicine for centuries.
The refreshing aroma and peppery, astringent flavor of tulsi tea are guaranteed to energize you any time you drink it. Here is our truly refreshing blend of Tulsi, Turmeric & Lavender Herbal Tea.
Chamomile Tea
Chamomile is a common daisy-like flowering plant, and chamomile tea is widely consumed, making it one of the most popular flavored teas in the world. Chamomile can add a floral aroma to herbal teas that is quite refreshing and soothing.
It is great for the skin, sleep, blood sugar levels, and also for relieving menstrual pain. Here is an excellent and delicate Chamomile Green Tea blend for you to experience.
Rose Tea
Rose tea is another popular flavored tea, and it is widely known for its inviting aroma and numerous benefits). Both the rose petals and rose hips are used to flavor and create some excellent light-bodied tea blends.
Here is our selection of some excellent rose white, black, and green teas you should try out or add to your loose-leaf tea collection.
Final Thoughts
Flavored tea is a great way to add aroma to your white, black, green, or oolong teas. Of course, there are plenty of other flavored teas to try out, but we can discuss them another time. For now, you should start by trying the most popular ones mentioned.
If you want to learn more about the most popular flavored teas in the world, other flavored teas, Indian teas, Darjeeling teas, or if you want to buy the most authentic and superior loose leaf teas, please visit our website flavored tea section today.