Best Tea Gifts for Thanksgiving
Best Tea Gifts for Thanksgiving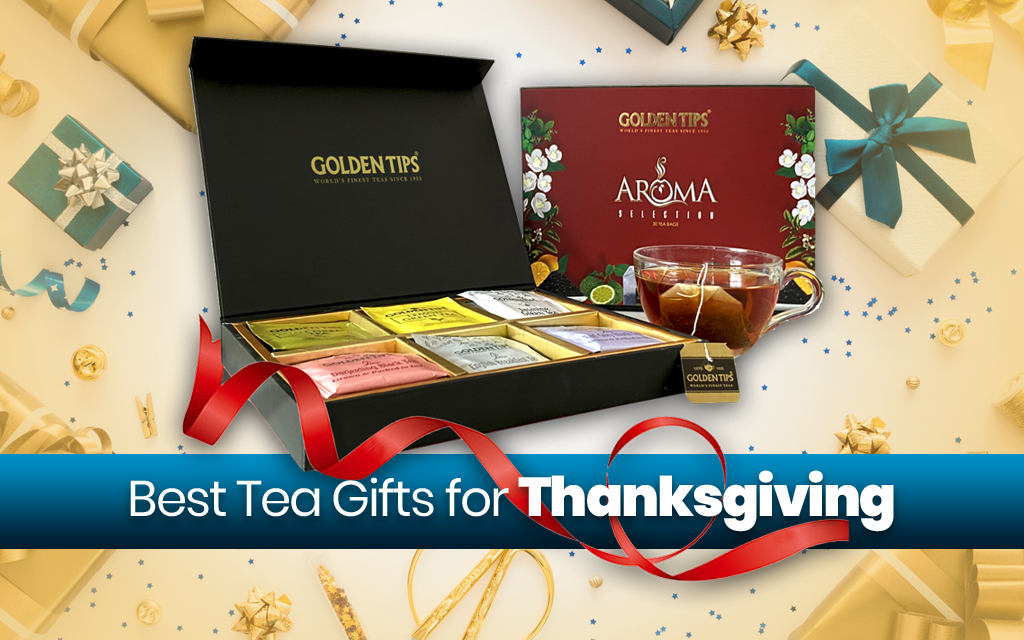 Thanksgiving is one of the best holidays because the celebrations always bring a sense of togetherness. Of course, giving gifts is the best way to show thankfulness for having someone in your life. The problem is deciding what to give.
While it is okay to give a relatively distant person a generic gift, you would probably prefer to take things differently when it comes to your loved ones, which is why you should consider giving them tea gifts from India for Thanksgiving.
Why Give Tea for Thanksgiving
Firstly, we are not suggesting that you give tea gifts to just anyone. Since you are putting so much thought into this, you must give the gift to a tea lover who will look forward to trying the new blend. Tea lovers are always happy to receive their favorite beverage or open to try exclusive brews, and your gift will receive the appreciation it deserves.
Secondly, giving someone tea is your way of telling them you care. Tea is always associated with warmth and care, and most people love to have it in the company of people they care for. Hence, giving such a gift to a loved one signifies your closeness with them.
Best Tea Gifts for Thanksgiving
Now that you have decided to give tea gifts for Thanksgiving let's explore the options you have. Following are some of the best gifts you can get:
Golden Tips Tea Gift Boxes
Golden Tips Tea recently introduced a collection of premium teas perfect for occasions like Thanksgiving and will be a hit with whoever you gift it to. We have premium sets of gift boxes, each of which has a different variety, so you will have many options to choose from.
Golden Tips Masala Chai & Darjeeling Tea is a popular product across nations, so we have kept that part of many assortments. So, choose well and enjoy the warmth with your loved ones.
Gift boxes Combo Darjeeling Tea + Earl Grey Tea + Traditional Masala Chai
View Price
Gift boxes Combo Darjeeling Tea + Darjeeling Green Tea + Masala Chai
View Price
Gift boxes Combo Masala Chai + Earl Grey Tea+ Oolong Tea
View Price
To keep things fancy, you can always choose our Pure Darjeeling in Royal Brocade cloth bag. It is one of our most premium offerings and will make a tea lover the happiest. This tea has an incredibly delicious aroma and rich color that represents its good quality.
It also comes in different sizes so that you can choose your preferred size.
3-in-1 Queen of Hills, Jubilee and Pride of Darjeeling - Velvet Bag, 3x25g
View Price
Pure Green Tea - Royal Brocade Cloth Bag
View Price
Premium Black & Green Darjeeling Teas in a Carved Wooden Box With Brass Work
View Price
Teapot Set
Since you are giving your tea-loving friend or family tea, why not add a teapot to the mix as well? Teapots are in demand right now, but it is easy to select the incorrect one. Test the water flow, weight, capacity, etc., before making the final choice and gift it along with the tea you have selected for them.
Glass Mug with Threaded Steel Lid & Steel Strainer
View Price
Glass Mug & Steel Lid & Fine Steel Mesh Infuser
View Price
Glass Tea Pot with Spout Fine Steel Mesh Infuser & Lid
View Price
Wrapping Up
In short, tea gifts for Thanksgiving are perfect for tea lovers who will take the opportunity to enjoy the deliciousness as much as possible. If you want to check out our other tea gift collections, check out our website and choose the options that suit you the most.