Green Tea vs. White Tea Which Is Better?
Green Tea vs. White Tea Which Is Better?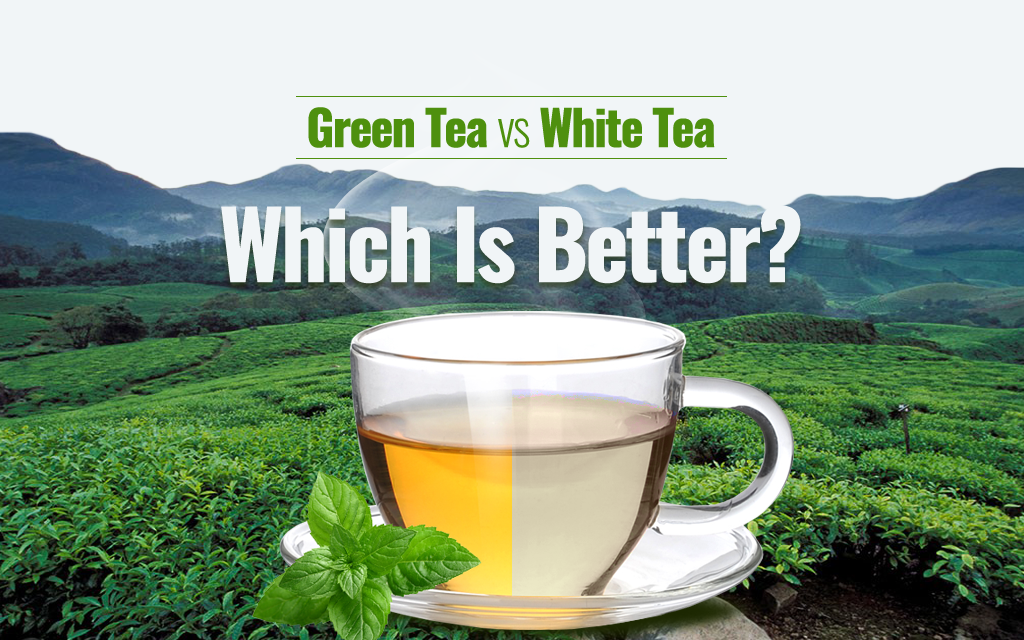 Tea is arguably the best beverage you can have, but with so many options, it can quickly become confusing. Of course, you should try all sorts of teas and research their benefits, but as you drink more teas, you'll develop preferences for taste and properties.
Today, we will compare the properties of two popular tea options, green tea vs. white tea, to help you learn which is better and which one is more suited to your preferences.
Green Tea vs. White Tea Which Is Better?
Both white and green tea come from the Camellia Sinensis plant, but white tea is harvested early, making it more delicate and difficult to handle. Green tea, on the other hand, is harvested later and goes through some processing and fermentation, but not always.
While you are likely aware of the many benefits of green tea, white tea also offers many similar benefits like antioxidant properties. Here we will discuss and compare the properties and benefits of both.
Antioxidant Properties
The minimal or absent processing of white and green tea allows them to remain intact and rich in antioxidants like polyphenols and catechins. When comparing white vs. green tea, white tea takes a slight edge in having more antioxidants because it is mostly unprocessed loose leaf tea.
However, high-quality green tea with minimal or absent processing can also have higher levels of antioxidants. The rich antioxidant content of both teas offers benefits such as lowering cholesterol, weight loss, heart function, and risk of cancers.
Choice of Green Teas
Kashmiri Kahwa Green Tea - Tin Can
View Price
Green Tea - Tin Can


View Price
Earl Grey Green Tea - Tin Can


View Price
Caffeine Properties
Most teas contain caffeine, but it largely depends on the tea, how it is processed, and other factors such as growing conditions, temperature, water, cutting stage, etc. Since white tea is harvested early from younger buds, it typically has less caffeine than green tea harvested from mature buds.
However, the difference is not huge because the ratio of caffeine content is around 3 to 4 for white vs. green tea. So, while an 8-oz cup of white tea may have 30 mg to 55 mg of caffeine, a similar-sized cup of green tea may have 40mg to 70mg of caffeine.
Of course, there are always a few exceptions, and certain white teas can contain more caffeine than certain green teas, but as mentioned, it depends on various factors. The more caffeine content of the tea, the more energy, increase in metabolism, and stimulation of the nervous system you can expect.
Weight Loss Benefits
Both teas have weight loss properties due to their caffeine and antioxidant content. Polyphenols help reduce calorie absorption, which reduces calorie intake in the body. Caffeine helps boost metabolism and stimulates oxidation in the nervous system. Both these things help counter calories in the body and promote fat burning, which ultimately supports weight loss.
Taste
The tea taste can be a game changer for many people, especially since white and green teas offer similar properties and benefits. If you like nutty, grassy, or vegetal notes with a more robust, slightly bitter taste, green tea may suit your taste.
Whereas if you like mild, delicate flavors with sweeter apple- or hay-like notes, then you may prefer the taste of white tea more. The white tea taste profile is much more complex and advanced, and tea connoisseurs around the world opt for white tea mainly for its delicate yet very unique taste and it's a clear big advantage over Green tea.
Choice of White Teas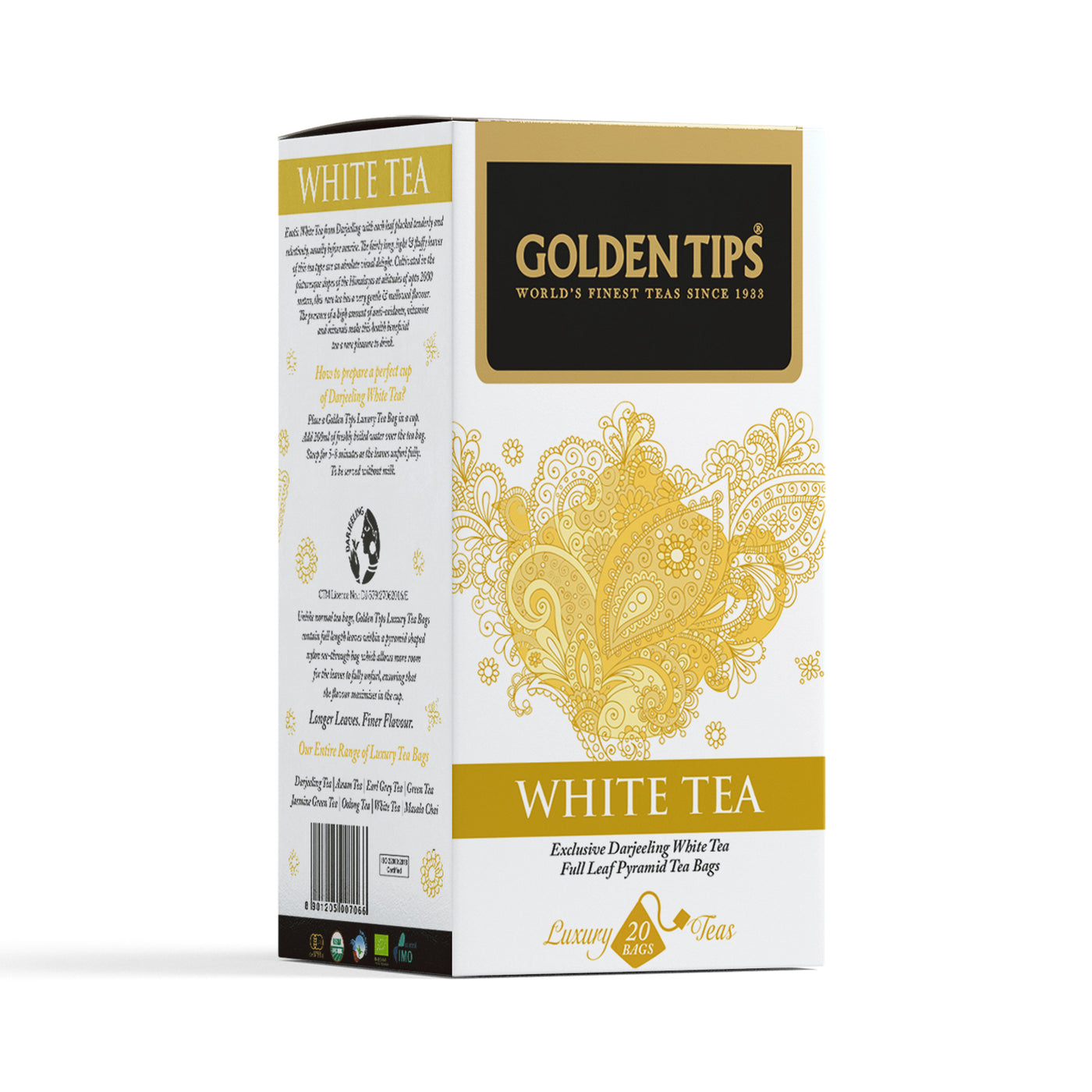 Exclusive Darjeeling White Tea Full Leaf Pyramid Tea Bags


View Price
White Exotica Tea - Tin Can
View Price
Snow White Darjeeling White Tea First Flush 2023
View Price
Our Final Thoughts
Comparing green tea vs. white tea properties, you can clearly see that white tea has slightly more antioxidants and lower caffeine content.
On the other hand, green tea has slightly more caffeine content and weight loss benefits. So, which is better? They both are because they offer similar properties and benefits at slightly different levels, depending on your preference for antioxidants, caffeine, or weight loss.
Ultimately, both teas are incredibly beneficial for daily consumption as long as you choose high-quality loose leaf teas from a trusted company like Golden Tea Tips .
Learn more about green teas & white teas, their properties, and benefits, and find the best selection of various loose leaf teas, by visiting their respective collection pages.