What Makes Cinnamon a World Over Power Spice Added to Teas
What Makes Cinnamon a World Over Power Spice Added to Teas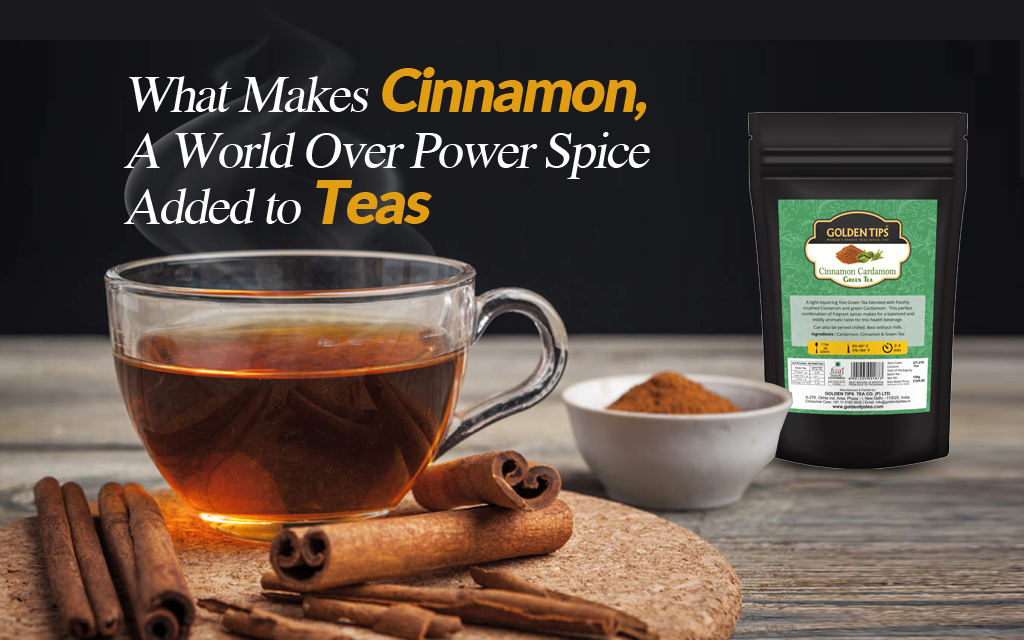 Cinnamon will be an excellent addition to your collection if you enjoy whole spices and tea. It comes in its raw form or as a cinnamon powder; both provide numerous health benefits and have a naturally sweet flavor that you will grow to love.
It is one of the most significant ingredients for several Chinese and Indian medicine and Ayurveda. This superfood is a favorite as it is known to have anti-inflammatory, anti-bacterial, and antioxidant properties.

Assam Kadak Chai, Spicy Masala Tea Blend
A light-Colouring fine Green Tea blended with freshly crushed Cinnamon and green Cardamom. This perfect combination of fragrant spices makes for a balanced and mildly aromatic taste for this healthy beverage.
Let's discuss the critical cinnamon tea health benefits and the best cinnamon tea recipe.
7 Health Benefits of Cinnamon Tea
As one of the oldest spices, cinnamon has excellent benefits for the body. It is a multipurpose spice you can easily incorporate into your daily diet. One such way is to have it in your tea. Cinnamon tea has various health benefits, allowing you to see noticeable results in weeks. A famous type is the cinnamon cardamom green tea. 
Here are the top cinnamon tea benefits:
Antioxidant and Inflammatory Properties
Cinnamon has Polyphenols, one of the potent antioxidants that helps fight damage to our body. Cinnamon tea can aid tissue repair in the body and protect you from any potential infections. 
Reduces the Risk of Heart Diseases 
Daily use of cinnamon may help in boosting your heart health. It can help improve risks such as high blood pressure, cholesterol, and triglycerides. It is best to mix ¾ tablespoon of cinnamon of it in your daily tea. 
Lowers Blood Sugar Levels 
Cinnamon is a great natural ingredient that lowers the blood sugar properties in your body. It helps reduce the amount of sugar entering your bloodstream by disrupting the digestive enzymes. Moreover, cinnamon is known to have a compound that imitates insulin's effects and boosts sugar uptake into the cells. 
Helps with Weight Loss
A few studies have claimed that cinnamon consumption reduces fat in the body. However, consuming a large dose of cinnamon daily is not suitable for the body. Hence, you should measure how much you put into your tea. 
Younger Looking Skin
Since cinnamon tea is an antioxidant, it helps protect your body from free radicals that cause our skin to age. Furthermore, it improves blood flow and makes your skin appear clean and glowing. 
Stronger Hair 
Cinnamon tea has excellent benefits for the hair. It will strengthen the hair from the root and cleanse your scalp, promoting growth. It boosts the blood flow in the body and allows your hair to shine naturally. 
Reduces Period Pain and Benefits PCOs
Most women consume cinnamon tea when they're experiencing period cramps. It helps to reduce the pain and provides relief. Moreover, cinnamon helps boost fertility in women by addressing uterine fibroids, improving menstrual flow, and aiding in weight loss and PCOs. The best time to have cinnamon tea is in the morning. 
How To Make Cinnamon Tea
There are two kinds of cinnamon that you can choose from; Cassia cinnamon is one of the most used forms with a dark brown and red color and is the much more affordable one. However, Ceylon cinnamon is a softer form that is quite expensive. 
The classic cinnamon tea recipe has only three ingredients:
Tea

Water

Cinnamon sticks

Honey
All you have to do is fill your pot with water, drop in your choice of cinnamon sticks, tea leaves and let it boil for at least fifteen minutes. You can then pour it into your glass, add honey, and let it cool before consuming. 
Final Thoughts
Cinnamon stands out as one of the superfoods. It is best consumed as cinnamon tea and provides excellent health benefits. For an authentic flavor, you can get your cinnamon tea from trusted providers like Golden Tips Tea.
Our tea is prepared with the utmost balance of taste and benefits. The preparation is super easy, and there are several combinations of cinnamon tea that you can learn about by visiting
our website
.