Differences Between Oolong Tea And Black Tea
Differences Between Oolong Tea And Black Tea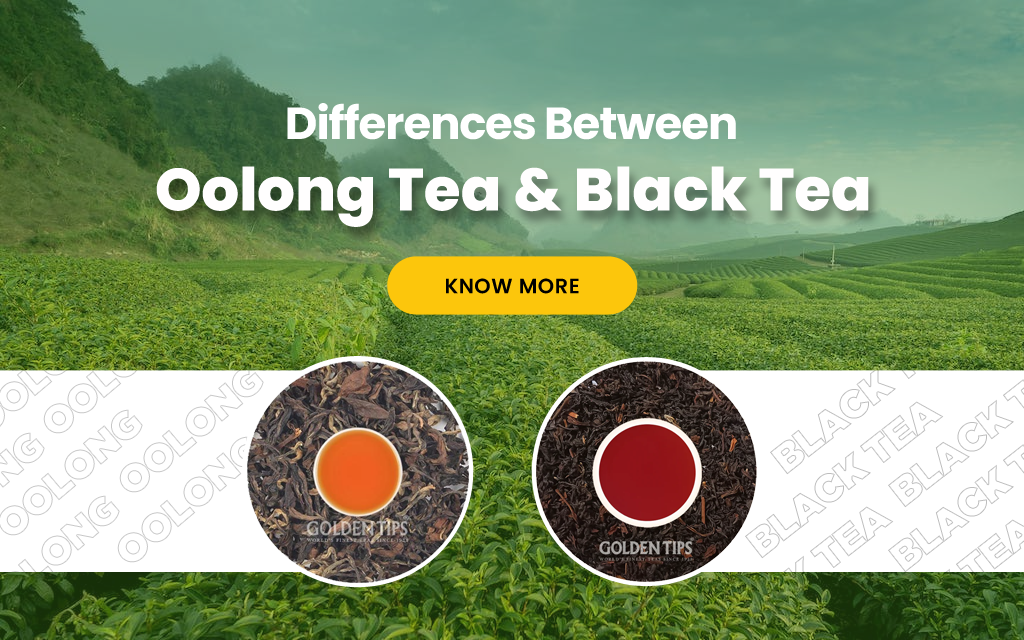 Tea enthusiasts often face the delightful dilemma of choosing the perfect brew. Among the vast spectrum of tea varieties, Oolong, and black tea stand out with their unique characteristics and flavors. When it comes to Oolong vs. Black tea, both share a common source – the Camellia sinensis plant. However, their unique taste, aroma, and visual characteristics result from distinct processing techniques. In this post, we'll explore the key differences between Oolong and black tea, comparing their health benefits, tea profiles, and tantalizing tastes.
Let's get started.
CHOICES OF BLACK TEA:
Oolong Tea vs. Black Tea: The Battle of Taste… You Need to Sip it to Experience the Difference.
Oolong and black tea offer distinct flavor profiles catering to different palates. Oolong tea offers a nuanced taste that varies widely depending on the oxidation level. Oolong teas can range from lightly floral and grassy to a deep, roasted, or fruity profile.
On the other hand, black tea is known for its robust and bold flavor. It's a full-bodied tea with a pronounced maltiness and a deep, rich aroma. The flavor of black tea is strong, sometimes accompanied by a sweet or malty undertone. Well-known black teas include Assam Tea, or Second Flush Darjeeling Teas.
Health Benefits- Oolong vs. Black Tea
Not only does tea taste good, it also offers amazing health benefits. It's a win-win all the way.
Whether you fall in love with Oolong or black tea, both types of tea provide impressive health benefits. Oolong tea boasts weight management properties. It speeds up the body's metabolism rate, thereby promoting weight loss.
Furthermore, Oolong is loaded with antioxidants like catechins, theanine, and polyphenols, which contribute to improving mental alertness and focus. Oolong tea is also believed to help maintain healthy skin due to its polyphenol content.
Similarly, black tea contains theaflavins and thearubigins, which lower cholesterol levels and promote heart health. Black tea also enhances digestion and provides an energy boost, making it the ultimate morning pick-me-up drink.
CHOICES OF OOLONG TEA:
Tea Profiles of Oolong and Black Tea- What Makes Them So Different Yet Tasteful?
The production process plays a pivotal role in defining the tea profiles of Oolong and black teas. Compared to black tea, Oolong is partially oxidized, usually between 10% and 70%. The level of oxidation contributes to the variety of oolong flavors.
Lightly oxidized oolongs tend to have a fresh, floral, and grassy character, while more heavily oxidized oolongs offer a deeper, roasted flavor with fruity or nutty undertones. Oolong tea leaves are often twisted or rolled into distinctive shapes, adding to their visual appeal.
Unlike Oolong, black tea is fully oxidized. And this is precisely what gives it that exotic dark color and rich flavor. The leaves are fully fermented. During processing, the tea leaves are crushed, torn, or curled (CTC) or left whole, depending on the type of black tea produced. This extensive oxidation leads to black tea's robust flavor, amazing color, and long shelf life.
Oolong Tea vs. Black Tea- Wrap up
Oolong and Black teas have distinct personalities, offering a delightful journey of flavors and aromas to explore. You need to try both to fully experience the depth and diversity they bring to the world of tea. Order them online from our website conveniently to indulge in their exotic flavors and find out which one is your favorite.