5 Tea and Honey Combinations With Their Health Benefits
5 Tea and Honey Combinations With Their Health Benefits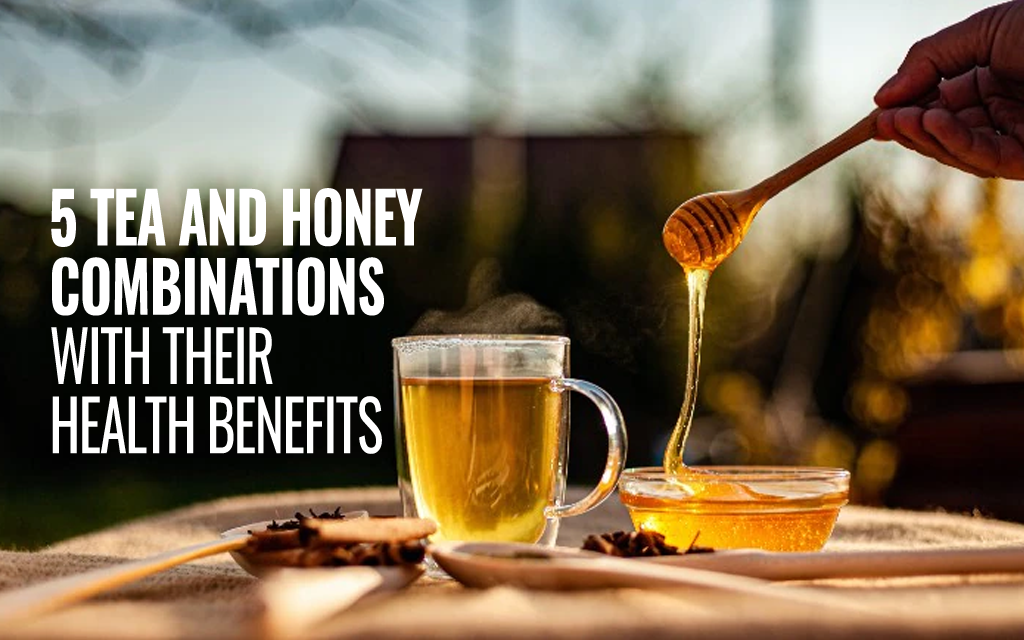 Tea is more than a beverage, especially for tea lovers. It is a lifestyle, a treatment, and a delicious drink for any occasion. You may not know that certain teas pair well with certain kinds of honey, just like certain wines pair well with certain foods.
Let's discuss five tea and honey combinations, with their health benefits, to help you pair them for the best flavor and health results.
5 Tea and Honey Combinations With Their Health Benefits
Humankind has used honey as an ingredient in food and beverages for centuries. It not only gives a sweet taste but also offers a variety of medicinal benefits from the over 300 distinct varieties available in the markets.
Demonstrations have shown that honey produces anti-inflammatory, antimicrobial, antioxidant, antimetastatic, and antiproliferative effects.
Here are five tea and honey combinations with their health benefits to help you take advantage of this incredible ingredient in your tea.
Black Tea With Honey
A wide range of black tea types pairs well with a few different varieties of honey. For example, English breakfast black tea pairs best with rich and pungent honey. Earl Grey black tea goes well with orange blossom honey, bringing out the citrus flavors of the tea.
Any strong cup of black tea pairs well with Sourwood, Buckwheat, and certain kinds of honey made with herbs like sage or thyme. Add some lemon juice for electrolytes and the honey, combined with the caffeine from the black tea, acts as a natural energy booster.
White Tea With Honey
On the other hand, white tea is far less oxidized or processed than black tea, which is why the flavor profile is sweeter, softer, and milder. The delicate flavor requires a delicate and mild honey like acacia or fireweed honey.
Since both white tea and honey are mild, they may offer a variety of health benefits in small doses, such as the reduced risk of heart disease, improved oral health, and ease of flu-related symptoms.
Green Tea With Honey
Green teas are mild teas with delicate earthy and floral flavors. Therefore, they pair well with mild and floral-flavored honeys. Lavender, clover, and alfalfa honeys are ideal for various green teas.
Other honeys include avocado and linden, which elevate green tea's grassy and minty flavors. The health benefits of honey with green tea include reducing the risk of heart disease, as both green tea and honey are good for the heart.
Jasmine Tea With Honey
Jasmine teas are aromatic and floral green teas infused with jasmine blossoms. This aromatic tea is ideal with similarly floral honey like lavender, holly, or clover honeys. Jasmine tea paired with honey can offer improved oral health.
Chamomile Tea With Honey
Chamomile tea is widely known among tea drinkers as a nighttime tea that helps calm you down and gives soothing effects for a good night's sleep. It is a mild tea that pairs well with mild honeys like clover, sage, or alfalfa, which prevent the honey from overpowering the chamomile flavors.
In terms of health benefits, it is good for a calming sleep and soothes a cough or sore throat from a common cold. It can also help ease related flu symptoms and laryngitis.
Saffron Kashmiri Kahwa Loose Leaf Green Tea
A fine grade of Green Tea, blended with Cinnamon sticks, crushed green Cardamom and with most....
View Price
Lemon Green Envelope - Tea Bags
Premium green tea combined with the refreshing citrus flavour of lemon. Rich source of....
View Price
Green Tea - Tin Can
A delicate and smooth whole leaf green tea from the pristine hills of Darjeeling. This....
View Price
Final Thoughts
These are just five tea and honey combinations with health benefits, and there are plenty more for you to try, which we can discuss another time. For now, you should try out these common tea types with the mentioned honeys to reap some incredible health benefits and unending deliciousness.
We recommend choosing the best loose-leaf teas from a trusted vendor like Golden Tips Tea and pairing them with natural honey varieties. If you want to learn more about tea and honey combinations or the best, most authentic, exclusive loose-leaf teas, please visit our website today.