Different Types of Indian Tea You Must Try
Different Types of Indian Tea You Must Try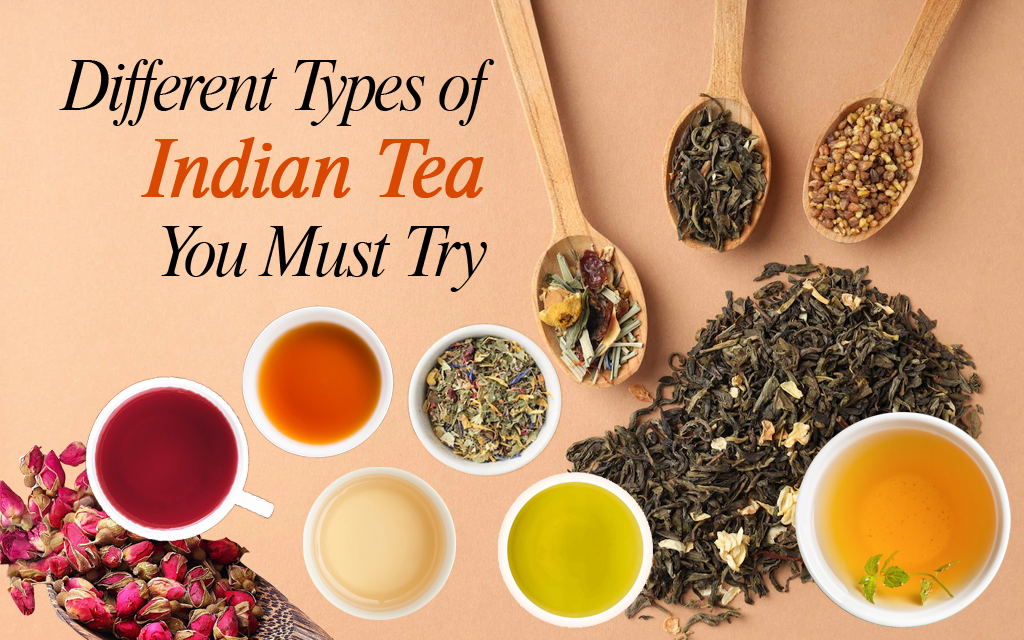 When it comes to tea, few nations have the rich tea culture, history, and heritage that India does. They produce some of the best, most popular, and authentic loose-leaf teas in the world, owing to their world-class tea farms, manufacturers, exporters, and retailers like Golden Tips Tea.
There are many Indian teas, each distinct and superior in a different way. Let's discuss some types you must try as a tea lover, enthusiast, or even an Indian looking to explore their culture and heritage.
Different Types of Indian Tea You Must Try
Here is our list of Indian teas you must try for an authentic Indian tea experience.
Masala Chai
As the largest tea exporter globally, India has a variety of native tea plants, and tea is a part of their everyday lives. Masala chai is a local creation and everyday tea for most Indians. Every family has their own recipe or a mix of spices they use to make masala chai.
It is a black tea boiled with milk, typically enjoyed with sugar, and has various flavorful spices such as cinnamon, ginger, cardamom, and clove.
Long Leaf Darjeeling Tea
Darjeeling tea is perhaps the most popular and in-demand Indian tea in the world. This makes sense since it is considered the best tea in the world. There are wide varieties, like green, black, white, and oolong Darjeeling tea, that are typically thin-bodied, and each one has a distinct aroma and flavor profile.
The subtle and soothing long-leaf Darjeeling tea is must try for an authentic Indian tea experience and even health benefits like weight loss and prevention of gastric ulcers. Authenticity is key since many sellers of fake Darjeeling tea are in the markets.
Study the tea leaves for authenticity or order from a trusted retailer like Golden Tips Tea.
Earl Grey Tea
Earl Grey tea gets its name from Charles Grey, the second Earl of Grey and British prime minister in the 1830s. However, its origins are disputed. Regardless, as a former British colony, India produces some of the best, most authentic Earl Grey Tea in the world.
It is a relatively strong black tea traditionally served without milk or cream. However, these days milk is preferred to reduce some of the bitterness. There are also some lighter-bodied green and oolong Earl Grey tea varieties, with rich flavors and plenty of health benefits.
Saffron Kashmiri Kahwa Loose Leaf Green Tea
Kahwa is an exotic tea that comes from the beautiful valleys of Kashmir. It is rich in flavors and a local beverage for Kashmiris, especially during winters. It is made using a method similar to that for making green tea, but the green tea leaves are added towards the end.
It also includes saffron, cardamom, and cinnamon for a rich flavor profile. However, the main ingredient that gives Kashmiri Kahwa its vibrant pink color and distinct aroma is dried rose petals. Traditionally, Saffron Kashmiri Kahwa Loose Leaf Green Tea is enjoyed with honey and almond silvers for the most authentic Indian tea experience.
English Breakfast Tea
Despite the misleading name, English breakfast tea originated in Assam, India, and it is an authentic Indian tea with Indian origins. It is among the most popular teas worldwide, especially in British and Irish tea cultures.
It is a full-bodied black tea blend with a robust flavor profile, traditionally served with some milk and sugar at breakfast. It is a must-try. We recommend the authentic Indian variety. English breakfast tea is rich in antioxidants and offers health benefits like lowering cholesterol, improving heart health, and reducing the risk of some cancers.
Sikkim Tea
Sikkim is a mountainous Himalayan region north of Darjeeling, where the Sikkim tea, also known as "Temi tea," originates. While it isn't as popular or in-demand as neighboring Darjeeling teas, Sikkim tea is gaining popularity.
It is grown by Tibetian refugees on land mainly owned by the Sikkim state government. The golden-colored Sikkim tea is a full-bodied tea with a mildly sweet flavor profile and aroma. You can expect a delicious-tasting tea with a light floral finish. The distinct flavor, rich history, and organic content of Sikkim tea make it a must-try Indian tea.
Nilgiri Tea
Commonly known as blue mountain tea, Nilgiri tea comes from the southern region of the Western Ghats. The tea is one of the world's most desired and sought-after teas, owing to its unique and incredible aroma, flavor profile, and dark liquor.
While it may be rare and slightly pricey, Nilgiri tea is a must-try Indian tea for every tea lover. It also offers various health benefits such as weight loss, diabetes prevention, and improved oral health.
Final Thoughts
These are just some of the different types of Indian tea you must try for an authentic Indian tea experience, and there are plenty more we can discuss another time. For now, seek out these teas for new experiences, especially if you are a new tea drinker, lover, or enthusiast.
Do you want to learn more about the Indian tea you must try? Do you want to buy the most authentic and superior Indian teas, including Darjeeling tea varieties? Then, please visit our website today.