Enjoying the Monsoon Season with Chai Teas
Enjoying the Monsoon Season with Chai Teas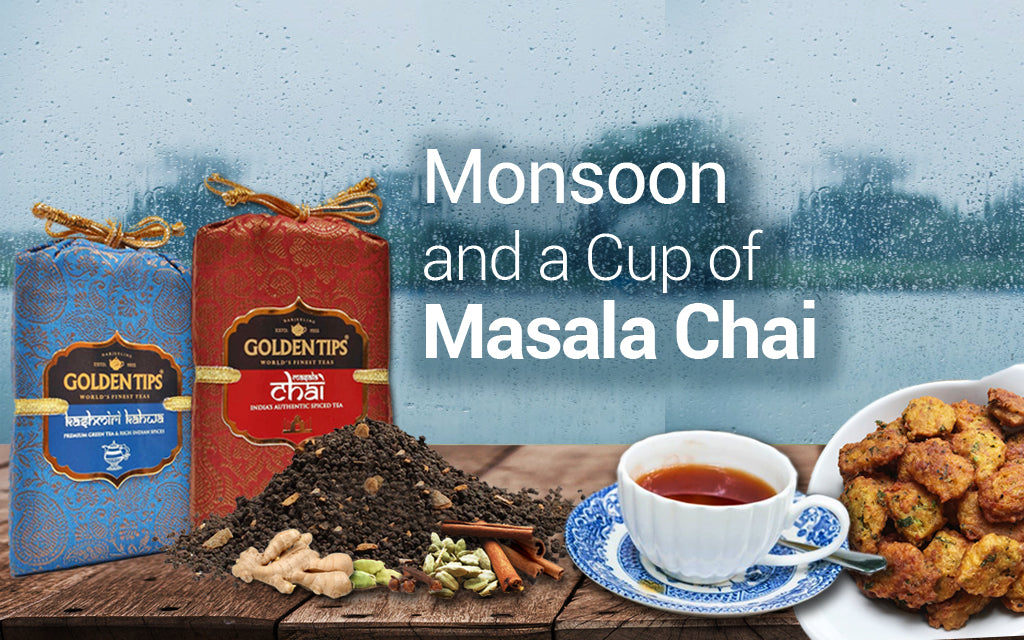 The monsoons season brings much needed relief in the form of pleasant rain after the scorching heat has taken its toll. Its subtle chills and cool winds make the temperature so much more bearable. With such a lovely weather, you have a good excuse to prepare some snacks along with a hot cup of Chai tea.
While samosas and pakoras have their own appeal, everything pales in comparison to a hot cup of tea. Since there are so many varieties of tea, it would be unfair to list down any particular variety as the absolute best, but a cursory glance into the Indian culture will reveal that masala teas garnished with herbs are the best. Nothing beats the aroma of strong cardamom as it fills up the nostrils, reminding you of beautiful midsummer evenings with a warm cup of tea in one hand, and a delicious snack in the other.
For many people, the smell of spices brewing for a cup of tea is like a warm, fuzzy memory of their mother asking them to wake up on a peaceful winter morning when the sun has not risen.
If you are confused about choosing the right blend of tea and complimentary snacks, when you have such a great selection of chai teas.
Here's our brief list of some of the selected teas to get you started and make your monsoons special.
View Complete Teas Collections
Now, if you are new to the chai teas, we have prepared a quick recipe for the masala chai & pakoras in this rainy season for our readers
Masala Chai Ingredients
½ cup milk
½ cup water
1 tbsp sugar
1 tbsp chai tea leaves of your choice
Process to make Authentic Masala Chai
Pour the milk and water in a saucepan at medium flame. Add sugar according to taste, chai tea leaves of your choice from wide range of Golden tips.
Stir the tea occasionally.
Once the tea starts boiling, remove the heat. Cover the lid for about a minute until the brew becomes stronger.
Note:-It is important to not continue boiling the tea because all its nicotine content starts becoming toxic.
Delicious Pakoras
Indians crave indigenous rainy season dishes deep-fright pakoras, particularly during the monsoon season and Enjoy Chai and rain. It doesn't matter which ingredients are used, whether it is potatoes, onions, cabbage or chilies, every foodie appreciates pakoras regardless. It's the equivalent of the Brits having their scones, butter, and cakes.
Ingredients
2 sliced medium sized onions
1 cup of chickpea flour
1 finely chopped green chilli
¼ tbsp of turmeric powder
½ tbsp finely ground carom seeds
Salt to taste
Oil to fry
½ tbsp of garam masala
Water to mix
½ tbsp of Asafoetida (hing)
1 tbsp of chopped coriander leave, fresh
Method
Toss the onions, coriander leaves, and chopped chillis in a large bowl
Add the spices and salt. Mix well.
Add water and chickpea flour to prepare a smooth, thick batter.
Heat the oil in a pan and add 1 tbsp of batter to make the pakoras. Continue to fry until they are golden brown.
Serve with Masala chai.
Not only this, we have special monsoon sale that makes your masala tea drinking experience all the more better.
Cheers with Golden Tips!
Indian Traditional Masala Chai
Masala chai is among the most widely consumed tea in the Indian subcontinent. It is a CTC tea that is brewed using milk and herbs and spices. CTC teas undergo a different kind of processing compared to Darjeeling teas. The leaves of these teas are passed through cylindrical rollers with hundreds of sharp teeth that crush, tear, and curl (or CTC as the name implies) the tea leaves into tiny hard pellets. Explore the sea of tea: https://www.goldentipstea.com/collections/chai