How to make Darjeeling White Exotica Tea | White Exotica Tea Review
How to make Darjeeling White Exotica Tea | White Exotica Tea Review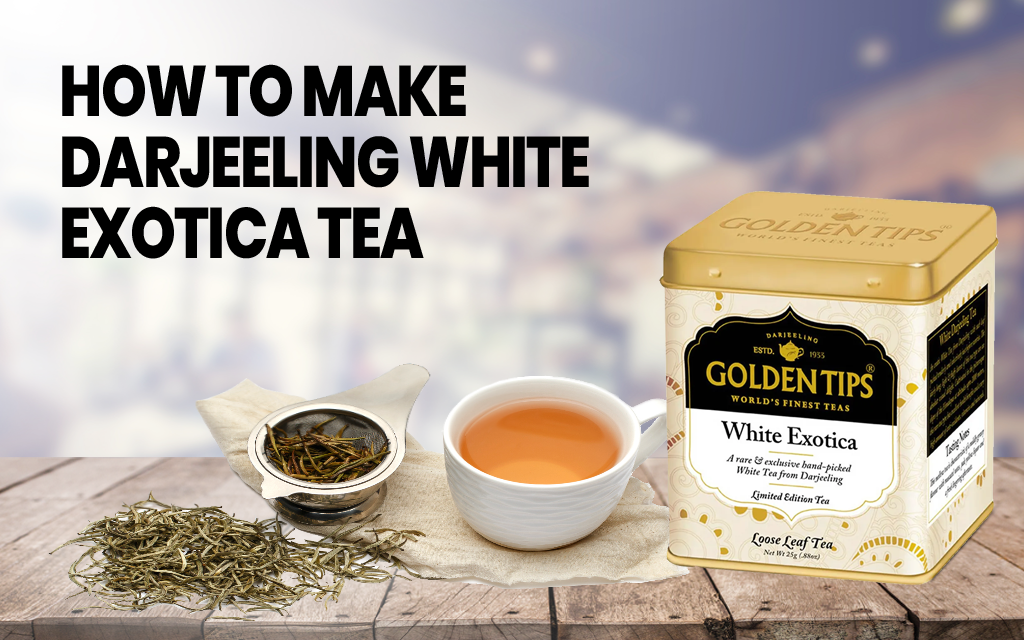 Darjeeling White Exotica Tea is one of the finest and most sought-after teas in the world. This rare and exotic tea is grown in the Darjeeling region of West Bengal, India and is known for its delicate flavor and beautiful aroma. It's a perfect tea for those who enjoy a light and fruity taste and is often used in tea blends and infusions. Here's a step-by-step guide on how to make Darjeeling White Exotica Tea at home.
Ingredients:
1 teaspoon of Darjeeling White Exotica tea leaves
1 cup of water
Honey (optional)
White Exotica Tea - Tin Can
An exotic White Tea from Darjeeling with each leaf picked tenderly and selectively just before sunrise. The fairly long, light & fluffy leaves of this tea type are an absolute visual delight. Cultivated in the picturesque slopes of the Himalayas at altitudes up to 2000 meters, this rare tea type has excellent health benefits and a very high amount of antioxidants, vitamins, and minerals.
Step 1 - Boil the Water
Start by boiling water in a kettle or on a stove. The water should reach a temperature of about 80°C - 85°C, which is the ideal temperature for brewing Darjeeling White Exotica Tea.
Step 2 - Prepare the Teapot
Rinse the teapot with boiling water to warm it up. This will prevent the tea from cooling too quickly and will help to maintain the temperature of the water.
Step 3 - Add the Tea Leaves
Next, add the Darjeeling White Exotica tea leaves to the teapot. One teaspoon of tea leaves should be enough for a cup of tea. You can adjust the amount of tea leaves according to your taste preference.
Step 4 - Steep the Tea
Pour the boiling water over the tea leaves and let it steep for 2-3 minutes. The steeping time will depend on how strong you like your tea. For a milder flavor, steep for 2 minutes, and for a stronger flavor, steep for 3 minutes.
Step 5 - Strain the Tea
Once the steeping time is up, strain the tea into a cup. Be careful not to burn yourself with the hot water.
Step 6 - Sweeten the Tea
If you like, you can sweeten your Darjeeling White Exotica Tea with honey. Start with a small amount and add more according to your taste.
Step 7 - Enjoy your Darjeeling White Exotica Tea
Finally, sit back, relax, and enjoy your delicious and refreshing Darjeeling White Exotica Tea.
Conclusion
Making Darjeeling White Exotica Tea is simple and easy, and you can enjoy this delicious tea in the comfort of your own home. Its light and fruity flavor and delicate aroma make it a perfect tea for any time of day, and it's an excellent choice for those who are looking for a healthy and refreshing drink. Whether you're an experienced tea drinker or a beginner, Darjeeling White Exotica Tea is a must-try.
So, go ahead and treat yourself to a cup of this exotic tea and experience its unique flavor and aroma for yourself. Enjoy!
How to make Darjeeling White Exotica Tea | White Exotica Tea Review
MUST TRY: A Rare & Exclusive handpicked White Exotica Tea from Darjeeling Shop Now: https://bit.ly/3yQQfbP . . An exotic White Tea from Darjeeling with each leaf picked tenderly and selectively just before sunrise. The fairly long, light & fluffy leaves of this tea type are an absolute visual delight. Cultivated in the picturesque slopes of the Himalayas at altitudes up to 2000 meters, this rare tea type has excellent health benefits and a very high amount of antioxidants, vitamins, and minerals. Learn Everything you need to know more about White TEA: https://bit.ly/3DVxeZF . . . For More Updates and Offers, Follow us on social media :- Facebook- https://www.facebook.com/goldentipstea Instagram- https://www.instagram.com/goldentipsindia/ LinkedIn- https://www.linkedin.com/company/goldentipstea Twitter- https://twitter.com/GoldenTipsTea . #WhiteTeaReview #DarjeelingTea #GoldenTipsTea