How to Make the Perfect Cup of Darjeeling Tea
How to Make the Perfect Cup of Darjeeling Tea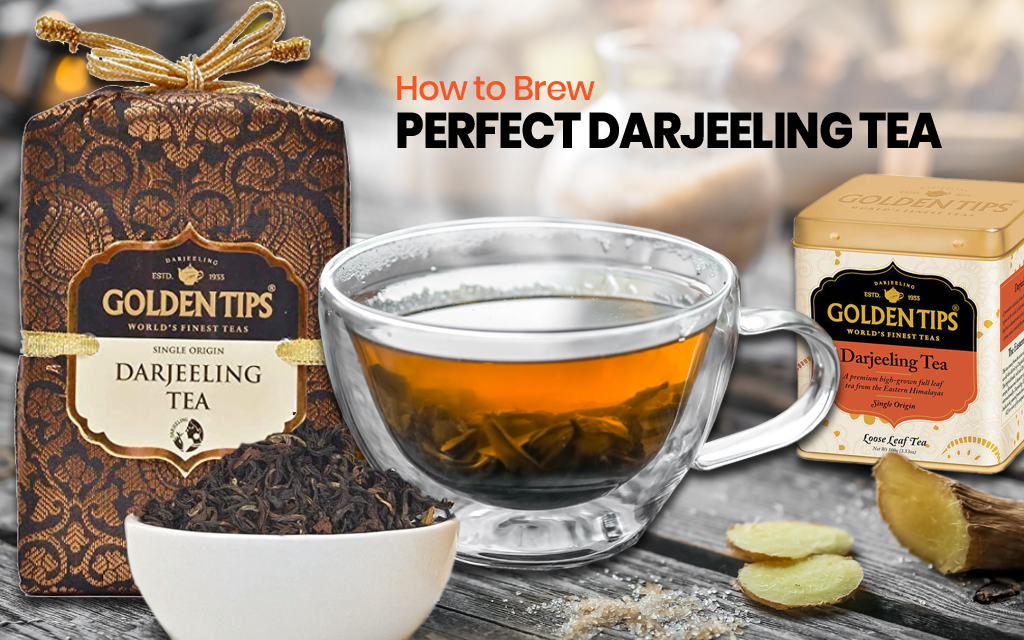 Available in countless varieties, such as black, green and white tea, Darjeeling tea is a favourite among tea drinkers. Many call it the Champagne of Teas, owing to its taste's similarity to the Muscat wine. The Queen of Hillsis another name that has made it well-known in the tea-drinking circles. Due to its reputation, there is a growing interest among tea drinkers to add it to their lifestyle.
However, when it comes to Darjeeling tea, you find many frustrated drinkers who have yet to drink a proper cup of tea – one that gets the right aroma and flavour of Darjeeling tea. There is a reason why this is a common complaint. Unlike some other tea types, making a perfect cup of Darjeeling tea is an art and a complete experience in itself.
You must get an excellent & fresh batch of Darjeeling tea for starters to make sure it tastes delicious. For that, you can try from the wide variety of teas listed at our Darjeeling tea shop.
To Make a Pot of Darjeeling Tea
Boil fresh water in a kettle. Do not use previously boiled water, as it changes the taste of tea.
If you have the first flush Darjeeling tea, heat water to 80-85C. For the second flush or autumn flush, heat water to 85-95-C.
Add one teaspoon for each cup into the teapot.
If you are making an 8 oz cup, then add around 3gm of tea.
Pour hot water into the teapot.
Steep it for 3 minutes.
Take out the strainer from the teapot. Get a hand-held strainer to pour tea from the teapot into your cup.
Sweeter and milk are optional. The best Darjeeling teas are taken without milk & sugar and have their natural tastes.
If you are using a premium batch of Darjeeling tea from Golden Tea Tips, you can steep it twice. Steep it for 3 and 5 minutes.
To Make a Cup of Darjeeling Tea
The best way to make a cup of tea is to use a cup that comes with an infuser or a single cup infuser. This way, you find it easy to make the perfect cup of Darjeeling tea– one that can taste amazingly well, leading your friends, family, or guests to compliment you for your tea-making skills.
Rinse the cup with hot water to warm it.
Put the tea infuser in the cup.
Add a tablespoon of tea into the infuser.
Pour freshly heated water.
Steep two times – for 3 and 5 minutes.
Take out the infuser.
You can now drink your tea.
Additional Tips
Use filtered unflavoured water.
Brew the leaves longer if you are making a second cup of tea.
Don't steep Darjeeling tea leaves in boiling water. Steep it when it cools down a little.
Store Darjeeling teas in a dry, cool place in an airtight container to preserve its flavour and aroma.
Darjeeling Tea - Tin Can
This tea is harvested from foothills of eastern Himalayas. It's known for Nice Aroma, Strong Taste, and highly oxidized tea. Tea is Packed in a good quality sealed poly packed to save the aroma of tea and after that, it is packed in a good quality stainless steel Tin Can.
How to brew Golden Tips Darjeeling Teas?
Each Darjeeling tea is slightly different from the other in taste & character. And that adds to its beauty and natural flavour.
We supply information along with each batch of Darjeeling tea shipped with clear instructions on brewing the tea to benefit our passionate tea drinkers.
You will find the instructions on taste, character, and liquor on our website. The method of brewing is detailed on the packet of tea that you will receive.
How to Make Perfect Cup of Darjeeling Tea | Darjeeling Tea
Make a Perfect Way to Make a Cup of Darjeeling Tea: https://www.goldentipstea.in/blogs/all/how-to-make-the-perfect-cup-of-darjeeling-tea Available in countless varieties, such as black, green, and white tea, Darjeeling tea is a favorite among tea drinkers. Many call it the Champagne of Teas, owing to its taste's similarity to the Muscat wine. The Queen of Hills is another name that has made it well-known in tea-drinking circles. Due to its reputation, there is a growing interest among tea drinkers to add it to their lifestyle. However, when it comes to Darjeeling tea, you find many frustrated drinkers who have yet to drink a proper cup of tea – one that gets the right aroma and flavor of Darjeeling tea. There is a reason why this is a common complaint. Unlike some other tea types, making a perfect cup of Darjeeling tea is an art and a complete experience in itself. You must get an excellent & fresh batch of Darjeeling tea for starters to make sure it tastes delicious. For that, you can try from the wide variety of teas listed at our Darjeeling tea shop. @ https://www.goldentipstea.com/ To Make a Cup of Darjeeling Tea The best way to make a cup of tea is to use a cup that comes with an infuser or a single cup infuser. This way, you find it easy to make the perfect cup of Darjeeling tea – one that can taste amazingly well, leading your friends, family, or guests to compliment you for your tea-making skills. 1. Rinse the cup with hot water to warm it. 2. Put the tea infuser in the cup. 3. Add a tablespoon of tea into the infuser. 4. Pour freshly heated water. 5. Steep two times – for 3 and 5 minutes. 6. Take out the infuser. 7. You can now drink your tea. Additional Tips 1. Use filtered unflavoured water. 2. Brew the leaves longer if you are making a second cup of tea. 3. Don't steep Darjeeling tea leaves in boiling water. Steep it when it cools down a little. 4. Store Darjeeling teas in a dry, cool place in an airtight container to preserve its flavor and aroma. How to brew Golden Tips Darjeeling Teas? Each Darjeeling tea is slightly different from the other in taste & character. And that adds to its beauty and natural flavor. We supply information along with each batch of Darjeeling tea shipped with clear instructions on brewing the tea to benefit our passionate tea drinkers. You will find the instructions on taste, character, and liquor on our website. The method of brewing is detailed on the packet of tea that you will receive. Shop Now- www.goldentipstea.com/ For More Updates and Offers, Follow us on social media :- Facebook- https://www.facebook.com/goldentipstea Instagram- https://www.instagram.com/goldentipsindia/ LinkedIn- https://www.linkedin.com/company/goldentipstea Twitter- https://twitter.com/GoldenTipsTea #GoldenTipsTea​ #HowToMakeDarjeelingTea #DarjeelingTea