It's International Tea Day: Golden Tips Tea Gives You the Pick of Its Finest Tea
It's International Tea Day: Golden Tips Tea Gives You the Pick of Its Finest Tea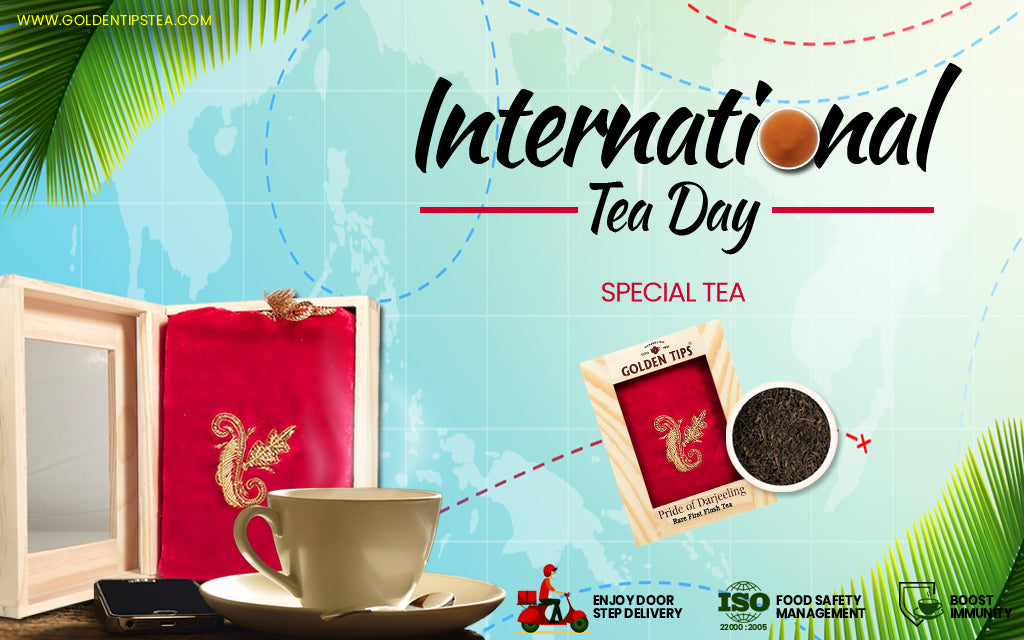 May 21 of every year is celebrated as International Tea Day. It's a day for all tea connoisseurs to explore their palate for exotic teas. As in previous years, Golden Tips Tea is bringing you blends that passionate tea drinkers have enjoyed for decades. Our selection goes beyond just a caffeine kick, offering you the best in terms of health and flavour. 2020 has been a triumphant year for First Flush Darjeeling tea.
For this special day, our founder and tea expert, Madhav Sarda, has handpicked a unique product from the house of Golden Tips Tea: Pride of Darjeeling – Rare First Flush Tea. Here is how he expresses this rare selection
"A prime time First Flush Tea is grown in the majestic hills of Darjeeling, in the shadows of the mighty Kanchanjungha. Harvested in early Spring, this is a specially crafted tea that consists of delicate leaves and has an amazing floral aroma and fruity taste. The quality of this light-liquoring tea is one of its kind and which has a bouquet that cannot be found in any tea worldwide."
All over the world, Darjeeling teas always lead the trend in terms of class and quality.
As the name suggests, Pride of Darjeeling will only grow in harsh, sometimes inaccessible hilly areas of Darjeeling. If it weren't for the noble work of a few producers hard at work in the harshest terrains on the planet, these incredibly unique tea leaves could have become extinct.
Pride of Darjeeling – Rare First Flush Tea represents the very best that the Darjeeling tea region has to offer. It is the most prized and expensive tea on the market and is referred to by tea connoisseurs as the "Champagne of teas" – a little island of luxury in your cup.
If you're looking for a delicious, flavorful drink that will get you excited for the day, Pride of Darjeeling from Golden Tips Tea is the perfect fit. Only the finest tea leaves were handpicked to make Pride of Darjeeling a possibility.
The thoughtful packaging on Pride Of Darjeeling features a playful, illustrative pattern around the box that represents the generational shift facing the tea industry. The huge baby-boom generation is moving out, and younger tea connoisseurs move in to try the premium and luxury end of the tea market. The tea comes in a velvet pouch with a handcrafted peacock in golden thread, packed in an elegant pinewood box.
To this end, Pride of Darjeeling makes a downright tasty cup. It helps that it was sourced from the top tea producing region of the world by expert tea cultivators. Like most kinds of Darjeeling tea, you can store Pride of Darjeeling in air-tight containers for months without losing flavour and freshness.
Our one-of-a-kind organic first flush Darjeeling tea gets glowing reviews from experienced tea connoisseurs for its wondrously unique flavour. Steep for a few minutes and you'll brew a special tea that tastes clean, earthy, and never bitter.
Madhav's choice early spring selection consists of the most tender leaves with a delightful aroma and a mellowed liquor. The distinct, muscatel notes of the Pride of Darjeeling make each sip more outstanding than the last.
Experts tea planters pick these leaves very carefully when they are still tender with shoots growing on the tea bushes. Incidentally, the Pride of Darjeeling contains incredibly high concentrations of antioxidants, L-theanine, and caffeine.
By choosing Golden Tips Tea, you can enjoy a premium tea experience from the comforts of your own home. All our tea leaves are readily available for purchase online and are only available for a limited time only. Click here to enjoy the best Darjeeling First Flush tea on International Tea Day.