Winter Warmth: The Top 10 Teas to Sip on Chilly Days
Winter Warmth: The Top 10 Teas to Sip on Chilly Days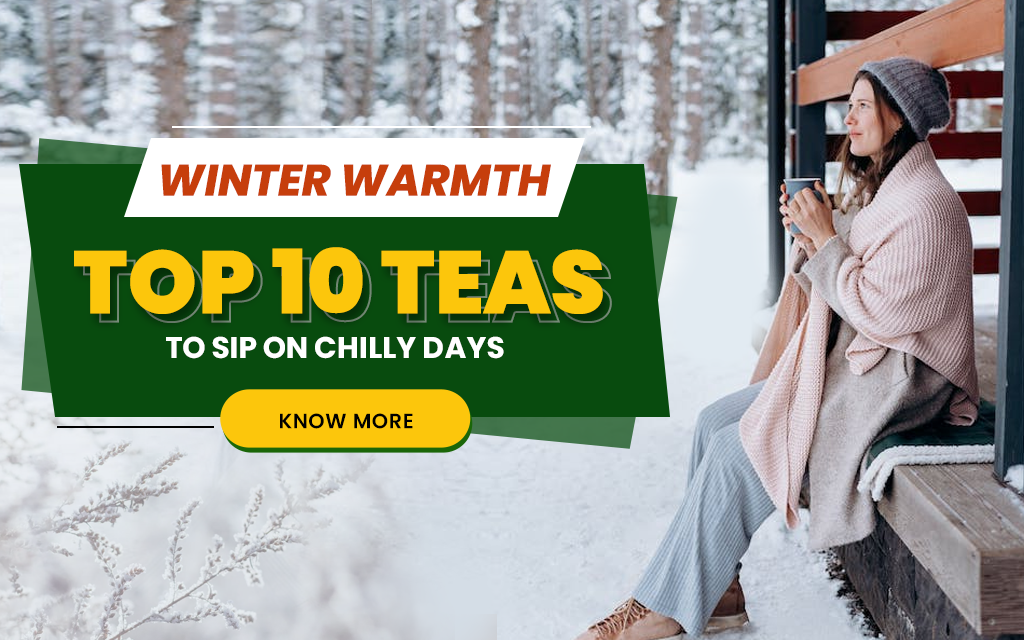 Enjoying a cup of tea on a chilly day immediately brings a comforting warmth that wraps around you, offering solace to both body and spirit. The hot steam rising from the cup creates a snug haven from the cold, bringing a feeling of relaxation and overall well-being. With its enticing flavors and gentle, soothing heat, tea makes for a delightful companion during the winter season.
Top 10 winter teas to keep you warm and comfy
1. Earl Grey
Early Grey is an infusion of bergamot, zesty orange oil and peels, fragrant warm spices, and vibrant flowers that come together to bring comfort and revitalization during chilly winter days. It is a delight for the senses but also a perfect remedy to combat the cold of winter. It is rich in antioxidants that support the immune system during winter, helping you stay healthy and cozy all season long.
2. Spiced Tea/Masala Chai
The blend of black tea and fragrant spices like cinnamon, cardamom, and cloves make it an excellent winter drink. Its warm spices help prevent and alleviate cold symptoms, clear nasal congestion, and provide antioxidant-rich protection against cell damage. Cloves boost the immune system, while cardamom aids digestion and supports circulation. Cinnamon's anti-inflammatory properties contribute to the body's defense against infections, making Masala Chai the right option to keep winter blues at bay.
3. Ginger Mastea
Ginger Mastea is one of the best sellers in the Golden Tips Tea collection. This spicy and aromatic brew provides various health benefits that help you stay resilient during the cold months. It can warm the body from the inside, making it a natural remedy for chills and aiding in maintaining core body temperature. Additionally, ginger has powerful anti-inflammatory and antioxidant properties that combat winter-related ailments and reduce the risk of infections. Its soothing qualities also make it an excellent choice for easing sore throats and nasal congestion, common winter discomforts.
4. Saffron Cardamom
Saffron imparts a rich and warm hue with a range of health benefits. It is an excellent mood enhancer, which can be particularly beneficial during the colder, darker winter days. Cardamom, with its soothing and digestive properties, complements saffron's warmth. This combination of saffron and cardamom creates a cozy and comforting tea that not only warms your spirit but also supports digestion and relieves stress.
5. Oolong Tea
Oolong's unique combination of antioxidants, including catechins and theaflavins, supports the immune system, making it an excellent choice for preventing and tackling common winter ailments.
6. Empyrean Azure - Blue Tea Infusion
This expertly blended tea, featuring Pea Butterfly, Sea buckthorn, Chamomile, Moringa, Lemongrass, and Rose petals with Green Tea, offers a rich nutritional profile. It's a health-conscious choice, delivering diverse essential vitamins and antioxidants. They can be beneficial for people looking to alleviate the discomfort of asthma and arthritis and relieve stomach ulcers and heart ailments exacerbated by colder weather.
7.Nilgiri Tea
Enjoying Nilgiri tea during winter warms the soul and promotes overall wellness, making it an excellent choice for the season. Its high antioxidant content soothes respiratory issues aggravated by cold weather, like chest congestion and cough.
8.Assam Tea
It is renowned for its robust and bold flavor and several health benefits. The high caffeine levels in this tea provide a natural energy boost, helping combat winter fatigue and lethargy. Its natural antioxidants ward off colds and flu during the season. It aids in the digestion of hearty winter meals.
9. Divine Potpourri - Licorice, Peppermint, Rose, Fennel, Hibiscus & Green Tea
This energizing blend of green tea, infused with Licorice, Peppermint, Rose, Fennel, and Hibiscus, is another great winter drink. The combo of peppermint and licorice helps ease winter respiratory discomfort such as coughs and congestion. On the other hand, Hibiscus and Rose contribute vitamin C and antioxidants, which are valuable for fortifying the immune system, which is often challenged in the winter.
10. Herbyoga - Tulsi, Turmeric & Ginger Herbal Tea
Promote health and comfort by sipping Herbyoga. This is a blend of Holy Basil, turmeric, and ginger - rich in antioxidants, anti-inflammatory, and antibacterial properties- all you need to build your immunity and stay healthy during winter.
For more information about our winter collection of best-selling teas, click here. Remember, brewing your perfect cup of tea is a personal art, so adjust the strength, add honey or milk, or enjoy it as it is. These teas are not just drinks; they're experiences that will make your chilly days a whole lot warmer. Happy winter!