All You Need to Know About World Food Safety Day
All You Need to Know About World Food Safety Day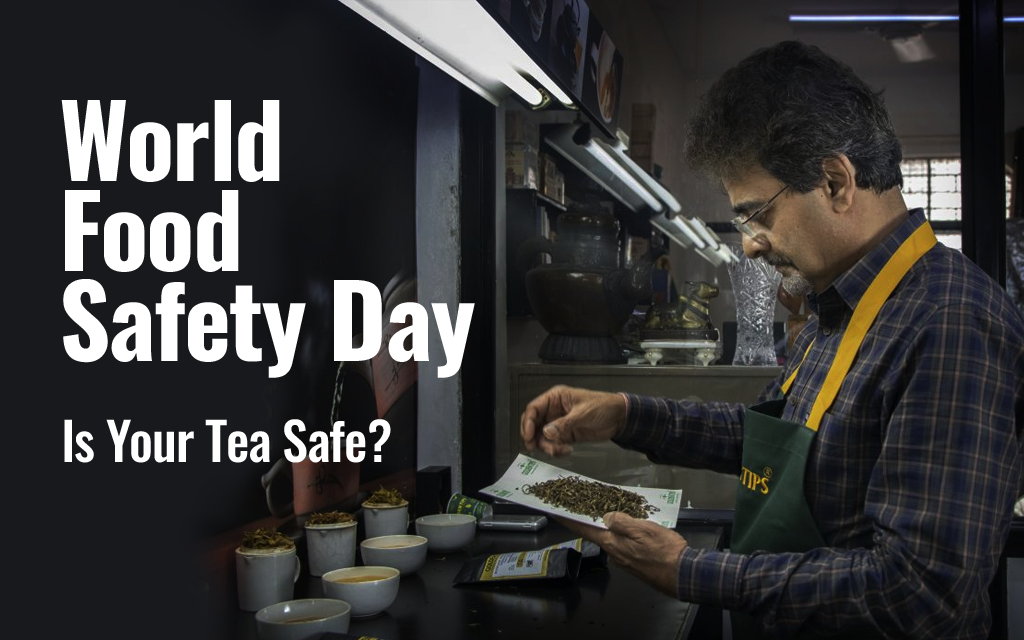 Nothing is more gratifying than the aroma of fragrant tea filling the air as you prepare for the day's duties. But have you ever considered tea safety standards? Are you buying safe tea?
Tea, like all other foods, must go through stringent quality control standards and extensive laboratory testing – from every stage of the production process through to the final packaging. Tea leaves must be routinely tested under a transparent food surveillance program to ensure the safety of both workers and consumers alike.
Tea is widely available in different shapes and forms, including full leaf tea, flavoured tea, tisane tea, iced teas, tea bags – the list goes on. Each product type requires its unique manufacturing and packaging process.
The tea production process, in particular, requires extra care against food safety hazards, and it is crucial to pay attention to issues such as chemical contamination, physical contamination, microbiological contamination.
Every tea manufacturer must conduct a thorough hazard analysis on the seven HACCP principles, that can be found and read here.
Tea, in General, is Safe – But Complications Can Arise
As a general rule, no constituents of tea have been identified to present a safety risk, but chemical, physical, and microbiological contamination can pass through ill-prepared tea plants due to the following risk factors:
Environmental pollution (such as enhanced levels of heavy metals from various sources)
Poor use of agrochemicals
Sabotage
Adulteration
Lubricants from machines
Fumigant residues that are commonly exposed during transportation and storage
Most of these hazards go undetected by the naked eye when the tea is purchased or consumed. This can lead to adverse reactions in people who are allergic or have compromised immune systems.
This led to the birthing of tea safety protocols established to reduce foodborne illnesses and to improve safety-related behaviours and practices. Every tea manufacturer and retailer worth their salt needs an extensive, thoroughly documented food safety plan. Areas of the food safety plan include food handling, staff health, hygiene and training, pest control, waste management, cleaning, and more.
Celebrating the World Food Safety Day
To raise more awareness about the food safety process, the United Nations declared 7th June to be World Food Safety Day. This year will mark the second time we come together under one roof to appreciate the critical role food safety plays in our lives and to assure that food stays hygienic at every step of the food chain.
Golden Tips Tea strongly believes in scaling up sustainable hygiene practices at every stage of the food chain, from tea farming to tea harvest, from processing to storage, and from transport to packaging.
To this end, Golden Tips Tea utilizes strict food safety and quality protocols by adopting mainstream certifications. Our tea products are certified against ISO 22000:2005 certification.
The ISO 22000 standard defines exact requirements that a food manufacturer must meet to ensure the safety of their product throughout the entire food chain - from 'farm to the fork', as the saying goes. This certificate is an indication of our commitment and dedication to quality standards.
Safer tea products promise longer and healthier lives, and ultimately cost less in health care. It also creates a resilient and thriving tea industry. Golden Tips Tea is at the forefront of maintaining the highest possible food quality standards. We are one of the top tea manufacturers who guarantee a safe, premium, and authentic tea products.
Click here to browse through our extensive catalogue of premium tea collections and have them shipped directly to your doorstep.